Eats from the Middle East

Middle Eastern food is the next big thing in global cuisine, or has been for quite some time according to its fans. From the incredibly famous to the very humble, chefs around the world are devoted to the flavours of countries such as Jordan, Lebanon, Israel and Turkey because of three chief qualities: flavour, freshness and aroma. Combined with key ingredients and staples, it forms a diet that is not just incredibly delicious and flavoursome, but one that can also be quite healthy.

Like other cuisines from the Mediterranean region, Middle Eastern fare emphasises quality and freshness over convenience. Mealtime is taken rather seriously, even if you're just taking a break for a cup of tea or coffee. Plenty of care and passion goes into the preparation of food and beverages, resulting in fare that is both palatable and beautiful. And a few tried and true components also ensure a consistency in taste.

Olive oil is one of the primary sources of fat – for preparation as well as garnish. Commonly used produce is a must and often includes cucumber, tomato, dates, brinjal and squash. Garlic, ginger, paprika, dried red chillies and fresh pepper impart spice and flavour, while lentils such as chickpeas and fava beans supplement a range of staples such as pita and bulgur. Fresh seafood is a vital component of the cuisines of locations close to the ocean, while meats such as beef and lamb provide protein in more inland areas.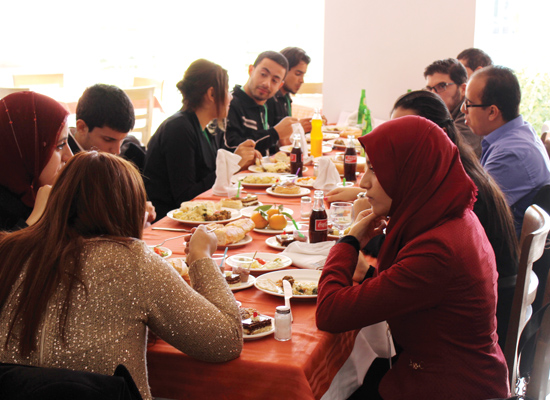 Hummus is one of the more common dishes of Middle Eastern cuisine, and is popular across a number of countries across the Levant and northern Africa. It's made by pureeing chickpeas that have been soaked and softened overnight, adding generous quantities of olive oil and white sesame paste to enhance the creamy consistency. Paprika, chilli powder and minced garlic are then added before a second trip through a food processor, before being plated and served with a small pool of olive oil and pitted green olives.

Wraps and rolls are another big Middle Eastern export, with shawarma and falafel among the more common. Both are traditionally served in pita bread, though in places where supply and demand dictate, French loaves and other flatbreads are also used. In India, one of the more common options is roomali roti. They're often eaten as a snack food rather than as part of a meal, and are especially popular with students and late-night revellers hungry after a night of partying.

Shawarma is meat (usually lamb or chicken, but also beef and occasionally game), vegetables (lettuce, cucumber, pickled beetroot), and chips or French fries. Falafel is small balls of spiced chickpeas or fava beans, breaded and fried in olive oil. These are packed into a pita pocket with white sesame sauce and vegetables, or served with a salad. Similar variants exist across other Mediterranean countries, most notably the iconic Greek sandwich that is the gyro.




A more wholesome dish, though not as popular as those we've mentioned thus far, tabbouleh is the salad that usually accompanies mezze platters of hummus, haloumi cheese and other quick bites. Tabbouleh, along with dishes like baba ganoush (roasted and mashed brinjal blended with tomato, onion, olive oil and seasoning) and falafel, is a testament to the versatility of a cuisine that is often overlooked for its vegetarian-friendly nature.

Traditionally made by mixing tomato, parsley, mint and onion with cooked bulgur, tabbouleh is often seasoned with a simple blend of olive oil, lemon juice and salt. Lettuce and chopped spinach are becoming popular additions, while some variants substitute couscous for bulgur. Tabbouleh is one of the more notable dishes in the Middle East's vegetarian arsenal, making it perfect if you're trying to watch your weight.

Along with the health benefits of olive oil (antioxidants, joint flexion, reduced LDL cholesterol), one of the best things about Middle Eastern fare is its relatively low calorie count. Because most of the energy comes from fats and protein, a vegetarian diet from a country like Lebanon is arguably better than many of its global counterparts. Brinjal, tomatoes, parsley, spinach and wheat are all relatively calorie-sparse compared to olive oil, cheese, lamb and fish. Combined with a sensible exercise regimen, a homemade Middle Eastern diet could be just what the doctor ordered. ..... Ashwin