The Doorway to Serenity! - Aakanksha Tolasariya, Padma Somireddy, Shilpa Chowdhary, Yamini Reddy, Gunjan Sindhi, Sangeeta Soma

"As we enter through the doors of the temple, we leave behind us the distractions and confusion of the world," said Thomas Spencer Monson, American religious leader. And maybe that is the reason why we turn towards the doors of the temple not just in the times of distress and sorrow but in our day to day life. Temple is a place which offers us a sense of comfort and relief, irrespective of what we are going through in our individual lives. Not just that, but it also takes our mind to a meditative state from where we secure the power and hope to get going.
Temples are not only an important part of our society but a significant part of our house as well. Be it a small area or a big room, most of us plan this space with the utmost care and attention. From selecting the colours to placing the idols, we are specific about every little detail of the mandir. With the onset of festivals, You & I celebrates the power of temples and deities with nine women from the town and share a glimpse of their mandir, its significance and a lot more. - Srivalli
---
Jewellery Designer Aakanksha Tolasariya loves to start her day from her beautiful mandir.
Jewellery Designer Aakanksha Tolasariya, who is also a mother of two lovely kids, likes to start her day by offering prayers in her mandir. It has now become a daily ritual for her. "I believe the best way to kick-start the day is with Gods name," she adds.
Significance
Visiting a place of worship is a deep-rooted value of our culture. The significance is expressing a feeling of gratitude, to pray for the holy blessings and to seek divine advice. The significance extends as God and temple is part of my religion, faith and life.
Planning the Mandir
The idea was to place the mandir in the centre of the house, which is well lit and accessible to everyone all the times. Also, we kept the Vastu factors in mind.
Special Idol
The Ganpati idol that we bought from the famous Siddhivinayak in Mumbai. Lord Ganpati brings good fortune into our lives.
Dearest Memory
For me, such a memory would be a whenever I visit a temple: wearing traditional attire, spending family-time, listening to a story of the God or the legend associated and definitely to seek blessings from the almighty. So, it's a mixed bag of pleasant memories every time.
---
Interior Designer Padma Somireddy gives us a sneak peek into her puja room.
Interior Designer Padma Somireddy, who runs a well-known interior design studio in the city, puts together her experience and expertise to share with us some tips on how to plan a mandir while also giving a glimpse of her own puja space. Here's more from the expert.
Vastu and Design
Vastushastra recommends that the mandir should be in the north-east part of the house to harness the maximum energy of the sun and we should face the east or north while offering the prayers. It's better to plan on the ground level and avoid designing it on upper-level floors, basements or anywhere near the staircase and toilets.
Colour Therapy
Sun colours like yellow can be used for the mandir as they harness positive energy or soothing colours such as light blues, greens or white, those represent purity and peace. Lighter shades reflect the light and make the room brighter. Avoid dark tones which are loud and distractive.
Dearest Memory
When I was living in the US, there was no prayer room in the house. So I removed all the shelves in a little closet, painted it and added a few religious ornaments and wooden posts to make my mandir, which will always remain close to my heart.
Tips
The temple at home is a sacred place where we worship God. It naturally attracts positivity and harmony. Avoid placing dustbins and photos of crime, battle, passed away people or of any negative emotions.
---
Take a look at Shilpa Chowdhary's mandir.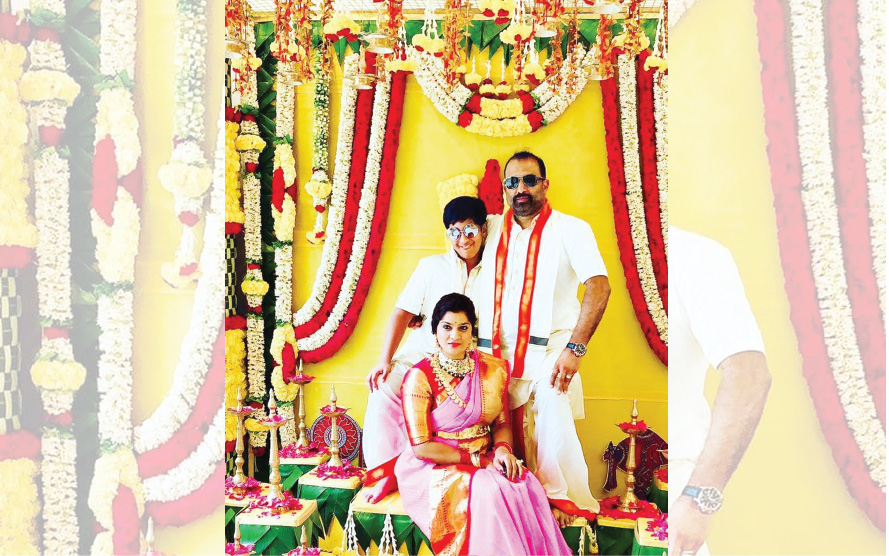 Shilpa Chowdhary's family, who is into the business of manufacturing surgical steel and pharmaceuticals, holds a belief that God is the ultimate creator and protector. The family offers prayers every day in their Mandir and also have the AkandaDeepam, which is lit throughout the year.
Significance
That is the place for almighty divine power; I believe that the lord sits comfortably in his place and protects us.
Planning the Mandir
We planned the Mandir in our house by keeping all the Vastus specifications on top priority; believing that the North East is the place for Divine Power.
Special Idol
I got the Mahalakshmi Tanjore Painting made of pure gold from Tanjore in Tamil Nadu. We offer special prayers to the almighty during Saravanam, Durga Navaratri and Diwali. Besides that, we got the Baba Murat made of pure marble from Shirdi Maharashtra and placed it in our mandir and murat of lord Venkateshwara from Tirupathi made of silver and gold.
Dearest Memory
The question immediately reminds me of the time when we moved into a new house, and Ganesh Chaturthi was the first festival we celebrated there. It was a big celebration and a memory that is etched into my heart.
---
Here's the minimalistic and bright mandir of Yamini Reddy, an artist who believes in a power that's above everyone.
Yamini Reddy says temples play a great role in her life. "Being a dancer, I can say that I am someone who's connected to the temples, as we draw a lot from the iconography on temples. Not just temples but gods and goddesses are the central themes of most of our dance forms. Their stories and ideas, when depicted through our art, help us share the morals that are imbibed by the audience." The artist also adds that she's not too religious but is someone who believes in a power that's above everyone.
Significance
India is a very spiritual country, and our culture is very closely related to spirituality. Temples are the epitome of this nature of us. They give us an opportunity to leave all our earthly connections behind, pray, and connect immediately to the God that is within us. Temples also have a great symbolisation, for e.g. the ringing of the bell is so pure that it clears your mind and removes all distractions to help you enter a peaceful state of mind.
Mandir and Design
When we built the house, we followed some basic principles of Vastu. Like the mandir should come in the northeast corner and gods should be kept in a way that we face the east while praying. I wanted it to be a peaceful place without any overwhelming designs or too many idols and pictures of deities. I kept it very minimalistic.
Special Idol
I have barely bought anything for my mandir. Most of them are either given to me by my parents and husband or are something that I was gifted after my concerts. Though the one that stands out is the central VenkateswaraSwamy brass idol; my mother gave it to me after I got married and was moving to Hyderabad. It's very precious as my parents used to carry it while travelling and do puja before doing their concerts.
Routine
I perform puja every day and light the lamp. It's not because of greed or religion, but I believe that every individual needs to have faith in power above them that guidesthem through life. Some people give this faith to an idol form. It gives us a chance to reflect who we are, what we are doing, what life means to us and what are we thankful for. Having such interaction makes me feel very positive and fills me with love, gratitude and kindness.
Dearest Memory
I grew up in Delhi till I was 12, in that house we had a very small mandir where my dad used to do puja every day. After he was done, he would call me to give blessings and prasadam. And I would run to him as all I was interested in was the prasadam that was kept in the mandir. Watching my dad do puja and having that prasadam afterwards is my dearest memory.
---
Giving us the glimpse of her temple, interior designer Gunjan Sindhi talks about vastu, significance and more.
Gunjan Sindhi is an Interior Designer who believes that peace and positivity come from the mindset, and the temple can only play a small role in these two aspects of a personality. She notes, "Temple is only a symbolic locale, people go there and renounce the worldly pleasures temporarily. Peace, tranquillity and positivity should be an outcome of one's belief in God." Here's more from Gunjan.
Significance
It is a place of worship which gives me comfort that I am always being protected and there is some unknown and yet all prevalent energy that looks over me and takes care of me. Temple is the place which allows me to experience the physical form of this unknown force.
Mandir and Vastu
We have always followed the norm of the place where we live, Vastu being the most important aspect of any planning in South India. We should place the deities facing east and locate it on the northeast side of the house. Placement of the idols should be at the height of the face while seating or alternatively at a height while standing. It should not be higher or lower than the level of the face in any condition.
Colour Therapy
Temple is a place where one comes to surrender oneself to a higher being, an unknown authority and such a place should be decorated with calm colours with some intermittent live decorations to highlight the deities. Natural colours from the use of flowers and leaves give a more formal and native feel to the whole experience.
Tips
My personal take on the subject would be to place deities aesthetically and in such a way that they are visible from different corners as we go about our normal chores. Since peace is a state which comes from within oneself, the surrounding enhances it.
Dearest Memory
One of the fondest memories of my mandir is of the time of our house warming when we had more than 40 of our extended family and guests living with us and praying in our small temple. It was as if we were getting blessed by many more elders, along with God, and I can never forget that.
---
Sangeeta Soma speaks about the significance of a mandir and puja in her life.
Sangeeta Soma is a homemaker who believes in celebrating every occasion wholeheartedly and puts her best foot forward to plan it. Mandir stands an important role in Sangeeta's everyday life as it surrounds her with positive energy, brings peace of mind and gives her the strength to move ahead in life.
Planning the Mandir
I never followed a particular set of rules or a system to plan it. Whenever I visit a holy place, I get idols of God from there and keep it in my Puja room.
Special Idol
Well, if I have to pick one, then it has to be the Shivalingam set in the mandir that I got from Rameswaram. It's been a long time, and till date, I haven't been able to find anything similar anywhere else.
Puja and Significance
In my daily life puja plays a crucial role; I do it every day. I feel the Diyas that I light up in front of the idols clean the negativity around and bring joy, happiness and peace in my house.
Dearest Memory
Every year, I perform Varalakshmi Puja at my house with my parents, in-laws and all the family members being a part of it. I have been doing this for eight years. Even though it's not a big celebration, it stands of special importance in my life.
---
A homemaker and a fashionista, Koyal Chandak's temple is all about positive vibes.
A homemaker, fashionista, and a mother, Koyal Chandak, is someone who loves to live life to the fullest and believes that there is some power beyond the universe. She calls herself religious and spiritual as she discusses with us the significance of a mandir in her life, how she likes to plan her one and a lot more.
Significance
To me, a temple is a place where God and humans connect. To get connected to God one must have peace of mind that you can get in the temple. Temple is a place where people believe that God exists.
Planning Mandir
I never planned it. When I came to my in-law's house, I was lucky enough to find a temple full of positive vibes that were planned perfectly according to the vaastu.
Special Idol
We have a Ladoo Gopal idol. We offer prayers to the idol, make it sleep, wakeup, feed and take care of the idol as we take care of our child. We also celebrate the day when we got the idol to our house; it was the auspicious day Radashtami. We decorate it beautifully same as everybody does it on Janmashtami.
Routine
I pray every day, and my day starts with prayers. I start my prayers as soon as I open my eyes in the morning by looking into my hands and end my day with the night prayer. The day when I do some special puja, I feel so soothing and peaceful. It's like some energy is making me feel happy. I can say it gives me immense happiness.
Dearest Memory
One of the dearest memories was when I started planning for a baby. I used to pray every day to Ladoo Gopal in BhramaMahurat to conceive sooner.
---
Fashion Designer Architha Narayanam gets a sense of peace while sitting in her temple.
Architha Narayanam is a fashion designer who owns a label called Architha Narayanam. Several Bollywood and Tollywood celebrities have played muse to the designer. She defines herself as a person who has a mix of both traditional and modern values. Architha shares with us an interesting story of Lord Ganesha with us. Read to know more.
Significance
God is definitely an important part of our life. We also have a temple in Vijayanagaram. Sitting inside a mandir gives us a divine feeling and a sense of power. It's like meditation, even though you might be going through some problems in your life when you visit a temple, sit there and offer you prayers, it gives you a sense of peace. Though you have any issue and sit in a mandir, it gives a lot of peace.
Special Idol
It's mostly ancestral. We have an idol of Veerabhadra Swamy who is our home god, Ganesha definitely holds a special place and Venkateswara Swamy as my father in law was a core member of TTD (Tirumala Tirupati Devasthanams).
Dearest Memory
This must be around 40-50 years back. My grandma was cutting papaya that grew in our own garden, and she noticed that the papaya was too hard to be cut into pieces. No matter how hard she tried, she couldn't. After a while, when she cut open it, she saw that the seeds inside the papaya were formed in the shape of Lord Ganesha. It took everyone by surprise. Later, our Gurujiadvised us to put it in a silver box, so now we have it inside the box. However, back then, it became a huge thing, and thousands of people came to seek blessings. And ever since then, every male member in our family is named after Ganesha and every year we do a big puja on that day.