'Dignity & Honor in a true Democracy.' - Biden leading with Biden led badge of Decency

As of this writing, most Republicans in the U.S. government have supported President Trump's false accusations and claims, and refused to recognise President-elect Biden as the lawful 46th President of the United States. Months prior to November 3 this was a brewing concern, with rampant speculation about the embarrassing actions that Trump might bring forth. And he did. Trump's weekly episodes of drama and ego-thumping rhetoric is clearly no surprise. But the continued embarrassment of his actions has, to say the least, put a damper on the election process. That many Republicans have chosen not to recognise Biden may be viewed as an attempt to undo the election, which has triggered serious disdain in the process. Still, the fact is that the next crucial steps are the certification of the state election results and the official appointment of Electoral College voters. Both must happen by mid-December.
republicans do have a lot on their plate to think about, including whether they are willing to break with democracy and Trump? An interesting overview in The New York Times noted that democracy seems much more likely to prevail, albeit in a 'damaged state'! One Twitter political commentator offered this opinion: "Whatever happens now, we may spend the rest of our lives dealing with the party-wide normalisation of refusal to concede losses; refusal to transfer power; efforts to overturn election results; and delegitimisation of out-party governance". If such a scenario does become the 'new normal', how hard will it be to battle the system? Add to these issues a few other possibilities that have crossed the nation's minds. What if Trump declares a national emergency over the virus, and what if he were to declare a war, bringing about a complete lockdown on the election process? What about the possibility of a civil war, with California, New York and other so-called Blue states separating and leading on their own? God forbid! I guess I am spooked and running with wild speculations, but the thoughts are out there, and so is Trump!
Donald J. Trump has yet to concede. Concession usually happens in two simple ways following a decisive election: a personal call to the victor, and a speech to supporters. In 2016 Hillary Clinton called Trump to concede, and then addressed her supporters when it was clear she was going to lose. Fast-forward four years, however, and Clinton advised Biden not to concede if the election was too close to call. Concession is a custom – not something that is required under the law. While it seems to tear at the fabric of our society and it is upsetting, it is re-assuring that eventually, the vote totals will be what they will be. So far, no fraud in the system has been detected – a sigh of relief for America as the pause continues to generate suspense.
Biden is my candidate of choice and the bearer of America's dignity and honour. He is the better man, in my opinion, and I am fighting to make it count. The election season has seen the pandemic create near-pandemonium worldwide, with rising cases and death counts. Meanwhile, we must endure voting recounts and Trump's stubborn voting fraud claims.
Ultimately, the U.S. House of Representatives and Senate will certify the identity of the President. The electoral votes are traditionally delivered in early January to the House and Senate, and are formally signed off on by the Vice President, in this case, Mr. Mike Pence. In the meantime, we have the transition period, and the incoming presidency is busy preparing to assume office. Biden has the pandemic as the priority on his agenda, having already established a pandemic task force that will be ready to take over. Many have written that the choice was to vote for America's Dignity or America's Economy, and that Biden won on Dignity. For me, I often hide my head in shame whenever Trump speaks or tweets.
America has been home to me and kind to me and I truly love this country. But in all these years, I have never had to deal with leadership that has been so ridiculed for the image Trump created. Yet, he has the backing of 70 million-plus Americans, which has enabled Trumpism to flourish. When Biden's transition from Wilmington, Delaware to the White House happens on January 20, 2021, I look forward to seeing a new image for the President. To me, dignity is important, and has a way of carrying on its back respect and honour. It feels safe. Courting embarrassment, certainly does not!
The transition, while it has already been bumpy, may escalate with more aggressive tactics, if Trump makes the road even more difficult. I received this from the daughter of a friend and Republican voter: "Why does mommy like Trump? In school they say he (Trump) is not nice". This made me think of a transition of another kind—the one from mind to mind. In leadership, we look for certain qualities, morals and simply good manners in speech and deed. For most of the young, it is a different mindset, based broadly on the image a leader will carry. Trump not conceding or enabling the transition is a dent in manners and goodness. On the other hand, many Trump supporters think of their leader as being macho and unapologetic, and that he should continue to occupy the White House.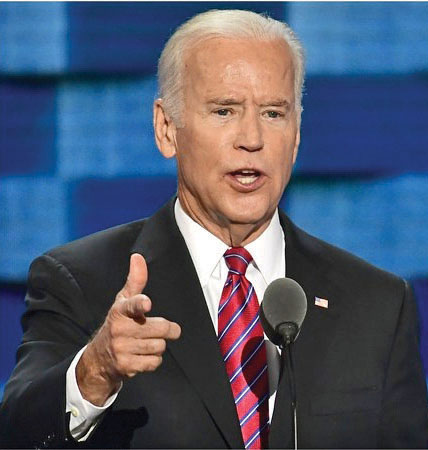 Imagine if Trump refuses to move out! Jokes about this situation are in abundance, with outcomes so bizarre one can only laugh. One tickled me given the pandemic situation: If indeed Trump does not move out, does it mean that Biden will have to work from home? Of course, it will never come to that, and for the record, come January 20, inauguration day, the new President of the United States will make the White House his home for the next four years. The day is also known as 'Moving Day'. Safe to say that on this day in January, the city of Wilmington will be hosting the biggest farewell party of the year!
Empowered by his supporters, Trump continues to change course. Biden is the President-elect as I write this, and this morning's news is everything from inaugurals to traditions to transitions, and more stories and opinions will surface in the days to come. One has me scared already: Could there be a coup? What if there was a federal agency that was responsible for counting the votes with the sitting President able to swing the votes to over to his side? That would mean war and democracy would be threatened if not obsolete. Enough said.
Today, Mr. Biden and his team are working on fair distribution strategies for the COVID-19 vaccine, once one becomes available. Trump has not publicly spoken since November 5, and the silence in his actions is louder than his speech. The nation is upset, Thanksgiving nearly upon us, and the state of Georgia prepares to vote on two Senate seats that could swing the chamber to the Democrats' side.
Removing Trump from the White House is one thing, but fixing America is quite another. Joe Biden is up for the job, and the people have chosen dignity over the dysfunction, fact over fiction, truth over lies, equality over racial bias and seriously, good honest journalism over biased banter.
There is a heart-warming tradition at the White House when the outgoing First Lady invites the incoming First Lady to tour the private presidential chambers. The blueprint is normally to change the colour for the new occupants. Let us hope that Democratic Blue – as a colour and energy – will be grace this famous house and reflect great democratic values and cheer for us all.
-------------------------------------------------------------------------------------------------------------------------
About the Author:
Seema Azharuddin with Joe Biden at a Fundraiser. Senior Consultant, Leadership & Communication,
Actor, Producer, Activist & Journalist, Writer, Orator – An Empowered Woman in the quest for needed causes and campaigns.
Email: seemablanche@gmail.com