Making a dish from the scratch might seem to be a hassle but this delicious Lamb Dhansak a popular Indian curry made from meat, lentils and favoured spices is mild, sweet and flavourful will truly satisfy most taste buds and along with it a rich, creamy Malido is a tasty Indian recipe served as a dessert. These two mouth watering recipes are shared by Chef Mukesh Sharma from The Westin Mindspace, Hyderabad
LAMB DHANSAK:
INGREDIENTS QTY
lamb shanks 550 gm
butternut squash 50 gm
toor, masoor and urad dals 100 gm
tomatoes 100 gm
onion 50 gm
chilli 50 gm
ginger 50 gm
salt to taste
brinjal 50 gm
potato 50 gm
garlic 50 gm
For ground spice
coriander seeds 10 tsp
cumin seeds 10 tsp
black peppercorn 20 gm
fenugreek seeds 10 tsp
red chillies (dried) 10 gm
green cardamom 10 gm
tamarind juice 20 ml
jaggery 20 gm
turmeric powder 5 gm
coriander 15 gm
INSTRUCTIONS
1. Crush the peppercorn with the cumin and cardamom seeds in a mixer. Set aside.
2. Heat oil a large pan. Add onions and whole spice. Once the onion turns brown, add
ginger-garlic paste and the spice powder. Cook for a few minutes.
3. Add the lamb pieces and cook gently. Add the vegetables during this time.
4. Once the lamb is tender, add tomatoes and cook well. Add jaggery and tamarind pulp,
and finish with coriander leaves. Serves three.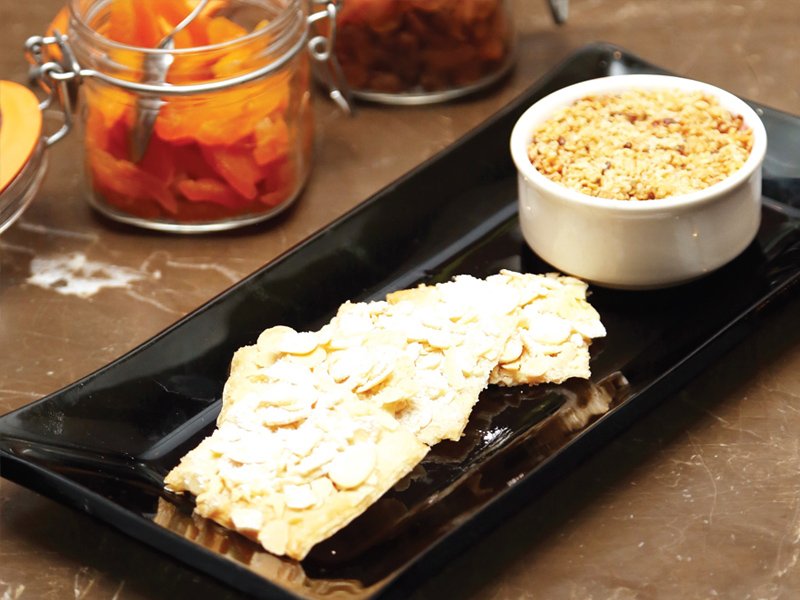 MALIDO:
INSTRUCTIONS QTY

almonds 90 gm
cashews 90 gm
ghee 700 gm
flour 185 gm
whole-wheat flour 150 gm
semolina 150 gm
milk 270 ml
caster sugar 750 gm
egg (whole) 6 gm
water 225 ml
vanilla essence 15 ml
nutmeg 2 gm
cardamom powder 8 gm
glazed cherry 75 gm
orange peel 45 gm
INSTRUCTIONS
1. Blanch and slice the almonds. Fry with cashews in ghee and drain the extra fat.
2. Prepare sugar syrup by mixing sugar and water. Stir until the sugar melts. Let cool.
3. Mix the dry sifted ingredients with ghee and milk. Set the mixture aside for half an hour, then cook on a slow fire, stirring
constantly with a wooden spoon until the mixture thickens and becomes light brown.
4. Add sugar syrup and cook together until thick, stirring constantly to keep it from sticking to the bottom of the pan.
5. Take pan off the flame. Slowly pour the eggs into the mixture and blend thoroughly. Cook on a slow flame and /
stir continuously until the ghee floats to the top.
6. Remove from the pan and add vanilla essence, cardamom, nutmeg, fried almonds, cashew nuts,
cherries and orange peel. Mix together.
7. Garnish with nuts and cherries. Serves four.

- Mukesh Sharma, The Westin Mindspace Hyderbad