For the super-rich, life is all about living well and large. Some spend their cash on one giant house in the middle of nowhere. Others purchase multiple apartments in different countries. Some invest, while others buy companies. And then there's our type: the ones that like to travel in style, with the greatest comfort.
Regardless of how these super-busy and successful folks make money–whether it's from acting, telling jokes, hosting a TV show, or designing clothes –we took a close look at five celebrities and their car collections. From Jay Leno to Tim Allen to Nicolas Cage, you'll find all sorts of rides, including European classics, muscle cars, and coupes. So here's a peek the special cars of these special people. – Anisha
Jay Leno
James Douglas Muir "Jay" Leno is known as a lot of things – comedian, actor, television host, and philanthropist. But once he's done with his day job, the likeable American entertainer likes to drive fast. And while his career as a talk-show host may have come to an end – he was the face of one of the most popular late-night shows for more than 20 years –his automotive enthusiasm is still in high gear. It was way back in 1964 that Leno began fooling around with a 1934 Ford pickup truck. By now he has collected and restored approximately 286 vehicles, including 169 automobiles and 117 motorcycles, from every era. In addition, the 67-year-old comedy legend has a TV show and a website called Jay Leno's Garage, which features detailed photos and video clips of his cars.
Leno has enjoyed a lifelong love affair with cars. His diverse collection includes a 1925 Doble E-20 Steam; a 1928 Bentley Speed 6, winner of the popular 24 Hours of Le Mans in 1929 and 1930; a 1930 Bentley G400; a 1936 Cord 812 Sedan; and a 1931 Duesenberg Model J Town. He also owns a 1962 Volga GAZ-21; a 1954 Jaguar XK120M Coupe, perhaps the classiest sports cars of its era; a 1963 Jaguar XKE (E-Type) Coupe; and a 1966 Oldsmobile Toronado. The original supercar, the 1969 Lamborghini Miura P400S, has also been seen in Jay's massive complex in California, as has a 1970 Mazda Cosmo 110S, the predecessor to Mazda's modern RX-7 and RX-8. Jay also used a classic 1986 Lamborghini Countach as his daily vehicle. Not only does Leno drive them, but he (along with his small team of mechanics) maintain and restore his classic collection.
When it comes to purchasing cars, Leno is known to take a natural approach: He basically buys what he likes, across a spectrum of eras, cost, styles and countries of origin. His collection has a fascinating backstory, and many times he's made an investment based on the lives that have been associated with the vehicles.
Jerry Seinfeld
If you ever look up vintage car connoisseurs, American comedian, actor, writer, producer and director Jerry Seinfeld is sure to feature in any list for his spectacular Porsche collection. Even after unloading 15 mint Porsche's in 2016, his collection is still robust. Although the man loves his privacy, it's been reported that he once had 47 Porsches, including 10 Boxsters, before selling them at a Gooding & Co. auction. Regardless, we feel Porsche should hand him an endorsement deal for all the advertising he does for them.
Seinfeld, who lives on the Upper West Side in Manhattan, had a three-story subterranean complex constructed in 2001. The Central Park West penthouse features four separate garage spaces and, according to architectural diagrams, the temperature in these garages is monitored by a high-tech HVAC unit on the roof. So when Seinfeld is not on site, he can access a video link on his phone that will display a real-time feed of the building.
His garage once stored a 1955 Porsche 550 Spyder Roadster (identical to the one in which James Dean died); a 1957 Porsche 356 A Speedster; a 1958 Porsche 356 A 1500 GS/GT Carrera Speedster; a 1958 Porsche 597 Jagdwagen; a 1966 Porsche 911; a 1973 Porsche 917/30 Can-Am Spyder; and a 1989 Porsche 911 Speedster.
Some of the notable cars in his collection include an ultra-rare 959 (Porsche only made about 337 of them), Porsche Boxsters, and the first 911 ever produced along with a 1964 Porsche 911. And while his Porsche collection is still considered to be the largest in the world – he owns around 35 – the non-Porches in his $1.4 million garage are equally impressive. We love the1950 Citroën 2CV and a1963 VW Karmann Ghia, which he showed off in an episode of Comedian in Cars Getting Coffee. We're also quite fond of the 1952 VW Bug, which to date is considered to be one of the most iconic automobile shapes in history.
Nicolas Cage
Ah, Nicolas Cage. The star of Gone in Sixty Seconds has an extraordinary penchant for rare Italian sports autos –particularly Ferraris. With an enviable stable of cars in his private collection, the 53-year-old actor is also known to splurge on other collectables, including jewellery, exotic pets, a real dinosaur skull, private islands, yachts and a private jet. The actor makes it clear that when he wants to spend, he really does spend. For instance, several years ago the Leaving Las Vegas star treated himself with 22 cars in just 12 months. Because when you're Nicolas Cage, why not? But that just landed the once-top-earner in Hollywood facing foreclosure on several properties, and got himself into a bit of trouble with the Internal Revenue Service.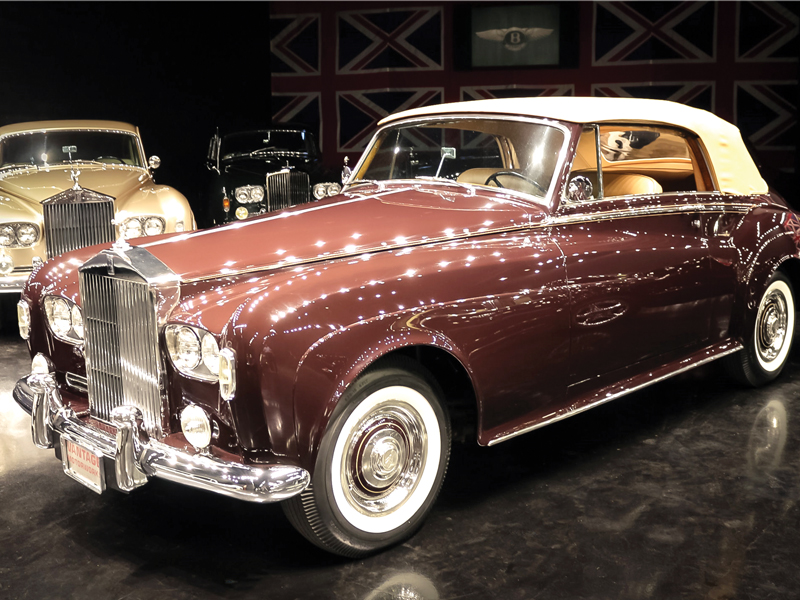 Since making his millions, Cage owned a decades-old Lamborghini Miura SVJ, which was built for the Shah of Iran. Even though the current state of Cage's car collection is unclear, he has been spotted in everything from a1938 Bugatti T57C Atalante Coupe and a 1955 Porsche 356 Pre-A Speedster, to a 1958 Ferrari 250 GT Pininfarina and a 1959 Ferrari 250 GT LWB California Spyder. The star also owns a rare1963 Jaguar E-type Semi-Lightweight Competition, a 1964 Rolls-Royce Silver Cloud III, a 1970 Hemi 'Cuda Hardtop, and a 1971 Lamborghini Miura SVJ— quite the change from Cage's classic pan head-based chopper.
John Cena
ohn Felix Anthony Cena is predominantly known to professional wrestling fans as a 16-time world champion who also happens to be the most polarizing superstar and the face of WWE. True to his image, Cena prefers hardcore muscle cars with a screaming engine sound, honouring the spirit of Detroit's glory days. In short, the beasts! His very first vehicle was a1984 Cadillac Coupe DeVille he purchased in1994, since then he has amassed quite the collection. After finding fame as a professional wrestler, actor, rapper, and reality television show star, Cena has indulged in his passion for motoring. He's bought several real rarities, including a 1969 Dodge Daytona, a 1970 Mercury Cougar Eliminator, a 1970Oldsmobile Cutlass Rallye 350, and two 1970 Buick GSXs.
While Cena owns around 25 muscle cars – a constantly changing number– in an interview with Motortrend Cena explained why he uses his glorious manual 1971 AMC Hornet SC/360 as a daily driver. "The Hornet's the one that I love cruisin' in because it's so very rare," he says. "It's an AMC product, and they're long since gone. It's a low-dollar car. You can still buy one for a very good price if you can find one. But it's really cool; you can pull up to any car show and everybody can have all his best stuff out, and the Hornet always gets some attention because you just never see another one."
Some other cars featuring in his collection area 1969 AMC AMX, a 1969 COPO Chevrolet Camaro, a1970 Pontiac GTO Judge, a 1970 Plymouth Superbird, a1970 AMC Rebel Machine, a 1970 Mercury Cougar Eliminator, a 1971 Ford Torino GT, and a 1971 Plymouth Road Runner.
Tim Allen
He may be best known as the voice of Buzz Lightyear, but Tim Allen has a rather museum-worthy collection of autos. The star of Home Improvement is a self-confessed car obsessive, and to prove it he's got a bright blue 1933 Ford Roadster with a Chevy 350 engine, a 1946 Ford Convertible with 292 flathead V8 engine, and a 1956 Ford F-100 Custom Pickup. Housed in an equally luxurious garage in Los Angeles, his exquisite stockpile includes over 50 hot rods. Unlike other collectors, Tim doesn't stick to a certain era or style of cars; he purchases what he loves, which makes his fleet nothing short of breathtaking. Fact: The man collected every single car based on models he had as a child.

It doesn't end there. Allen also happens to be one of the biggest collectors of American muscle cars in the world, with a 1950 Cadillac 60 Series, a Chevy 350 and a 1968 Shelby GT500 KR among his collection.But that's not even the most impressive thing about his wonderfully eclectic fleet. Unlike other aficionados, Allen actually drives all his cars. Other notable autos include a Karmann Ghia, a 1956 Ford F150 pickup with 426 supercharged engine, a 1962 Chevrolet 409 Bel Air, a 1996 Chevy Impala SS with Corvette ZR1 engine, and a special one-off called the Tim Allen Moal Roadster Special, built by Steve Moal. Another fun fact: The not-so-road legal 1986 Ford RS200 and the same 1933 Ford was rebuilt on-air during Home Improvement's run, proving that the actor has steadily built an impressive car collection that extended from his role in the show.
Ralph Lauren
While running one of the world's largest clothing companies, living life king size, and staying healthy is Ralph Lauren's day job, his other passion lies with his carefully curated collection of autos. The avid collector has dozens of classic motors that sit in a sprawling garage in Bedford Hills, New York, including the 1958 Ferrari 250 Testarossa and a 1930 Mercedes-Benz Count Trossi SSK. Lauren also owns 1938 Bugatti Type 57SC Atlantic Coupe. Given there were only three ever made, we imagine Lauren paid quite a price for the privilege. He also has a 1955 Porsche 550 Spyder, a 1955 Jaguar XKD and many others.
When the style exemplar and fashion mogul first became an independent designer, he is thought to have treated himself with a 1971 Mercedes-Benz 280SE 3.5 convertible. What's even cooler is that to Lauren, cars are more than mere modes of transportation, a reason why he draws artistic inspiration from his collection.
With more than 60 cars–98% of which are red and are perfectly parked on individual all-white pedestals, Lauren apparently spends only a day per year with his impeccable car collection. And if you ever want to see the 77-year-old designer's collection for yourself, you could visit Les Arts Décoratifs in Paris, as Ralphships his autos to foreign countries, lending them to museums for display.