Celebrateebrates Its 10th Anniversary

Huma and Asad Latif, Publisher and CEO of You & I magazine, along with the You & I team hosted a scintillating black tie event, complete with their annual awards and fashion shows by ace designers Anushree Reddy, Asmita Marwa, and Gaurang Shah, to celebrate the 10th anniversary of You & I magazine. The event was held in tribute to Late Begum Bilkees I. Latif, Founder of S.H.E.D., on January 28 at Novotel HICC.
An extravagant event that was put together by Meher Nawaz, it featured beautiful decor by Minttu and Breeze Sarna that set the tone for the evening. The fashion show was directed by Imran Khan and choreographed by Jibran Khan, with grooming by Zoha Imran. The anniversary party was attended by the who's who of the city and others from Mumbai and Delhi, including people from different walks of life like Ashok Advani, Shalini Bhupal, Sangita Reddy, Pinky Reddy, Shivani and Sahil Malik, Sudha Reddy, Chhaya Momaya, Coty Chenai, Bhupinder Singh Sawhney, Shilpa Reddy, Kamini Saraf, and many others.

Mr Pedhapally Kishan of Asava Wines being presented a plaque of thanks by Mrs Sudha Reddy.

Asad Latif welcoming everyone for the special evening in tribute to Begum Bilkees I. Latif

Pinky Reddy appreciating the fantastic Direction by Imran Khan, Fashion Choreography by Jibran Khan and Grooming by Zoha Imran.

Krishaa Ghanasingh being thanked for the gorgeous jewellery worn by the ladies who walked for Anushree Reddy.

Prakash Savio of Mowzz Entertainment and Bablu of Design FX being felicitated by Asad Latif.

Designer Gaurang Shah being thanked and appreciated for his stunning collection of sarees by Pinky Reddy.

Veenupamma Gudela of BMW - KUN Motoren being given the special plaque of thanks by Sudha Reddy.

Mr Bhupinder Singh Sawhney, Owner of Radisson Blu Plaza Hyderabad being thanked for all they did to ensure the success of the Fashion show, presented by Asad Latif.

Thanks for a wonderful collection of Designs to the ever young Asmita Marwa, being presented by Pinky Reddy.

Bunty Bajaj of Krsala Jewellers being thanked by Sudha Reddy for the beautiful jewellery provided to ladies who walked in Garuang Shah's designs.

Pinky Reddy appreciating the outstanding event management by Meher Nawaz.

Sachin of Maneá who along with his team did the lovely make-up and hair for the majority of the participants, being presented with a plaque of thanks by Asad Latif,
with compère Pallavi on the left.

Anushree Reddy, whose bridal collection had everyone in raptures!

Mr Praneet Kumar of United Breweries being given a plaque of thanks by Sudha Reddy.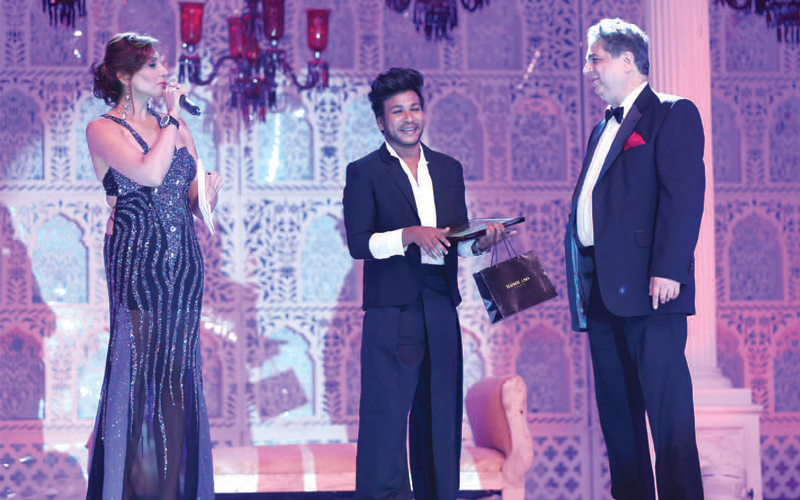 Mr Asad Latif appreciating Sandy for the tremendous hair and make-up provided by him and his team, while the compère Pallavi Walia Raj looks on.

A big thank you to Minttu, Breeze, Anmol and Alisha Sarna for the most magnificent decor that could be imagined, being presented by Pinky Reddy while Huma Latif looks on.

Compère for the evening, the stunning Pallavi Walia Raj

Singer Aaryan whose magical voice kept the crowd enthralled by his ghazals.