Caviar Dreams and Champagne Moments

Wedding season is looming, and if there's anyone who knows how to put on a spectacular wedding, it has to be us Indians. When it comes to celebrating the coming together of two souls, we certainly do it with style! The dhoom dhaam that surrounds most Indian weddings is often jaw-dropping and certainly one-of-a-kind. Indian weddings are a billion dollar plus industry, and there are innumerable ideas one can choose from to make their big day truly special, whether it's the trousseau, clothing, hair and make-up, gifting or destination. This month, we bring you a run down on some of the most glamorous weddings from 2016-2017 that took place around the world, as well as a few from the past that took the nation by storm. And since destination weddings are all the rage, we share a few tips on how to plan one, whether it's in the Maldives, Vienna or Jodhpur. So put on your dreamy rose-tinted glasses and let's go! -- Suneela
Destination weddings are super-popular now, so it's not at all uncommon for someone to want to host one of their own. And with disposable incomes to spend on weddings on the rise, people have begun to look for truly exotic and bespoke experiences to give their guests.
Vandana Mohan is one of the best wedding planners around, and the rich and famous always approach her with their downright crazy wedding ideas. Founder of the Wedding Design Company (WDC), she has been in event management for the last three decades, with her company Backstage Productions. She's partnered with leading luxury brands to create bespoke experiences across the country. Vandana helps people live out their fantasies by creating dream weddings.
This leading design and planning house uses art and technology to transform simple spaces into unique experiences. Vandana and her team at WDC have envisioned and designed some of the most glittering and unforgettable weddings across the globe, in cities like Vienna, Florence, and Ibiza, and back home in Udaipur, Jodhpur, Hyderabad, Mumbai, and Delhi. Glamorous, timeless, iconic, and classic is what Vandana aims to give her clients.
Asked for her take on the biggest wedding trends for this season, she says, "Given the fast pace of technology and with all the social media platforms available today – Pinterest, Instagram, Twitter, etc. – we as wedding designers and planners are in a constant race with the Internet to create and produce something out of the ordinary each time." She says they have to create something that can be forever remembered fondly when on social media.
Destination is of utmost importance when it comes to planning a wedding. Right from Europe to the Maldives and Rajasthan, the requests she gets are always extra special.
Ceremony Themes
All brides and grooms have different tastes and envision different things for their big day. Vandana suggests some of the following themes, depending on the kind of couple you are.
If you're Bollywood enthusiasts:
What better than famous dialogues from classic Bollywood movies used as wall installations, movie posters, and cushion covers? Keshav Reddy's wedding in Hyderabad took its inspiration from this.
For minimalists:
Creating a minimalistic look is the hardest to achieve. Using a single colour or a single type of flower and furniture is one way to go. This is best for those understated yet luxe-loving couples.
For the quirky soul:
Vandana says that 'Alice in Wonderland' is a popular theme, but one can pick their favourite childhood story or even just a fun movie or book they like. Anything can be designed and created using that movie or book as an inspiration. She adds that, "As Indians, we have a bunch of traditions that I would like to see make a comeback, like the step-well concept (arena seating) with a traditional mandap, and decorating the venue with only Indian flowers, because old is always gold."
"I adore the post-wedding games the bride and groom used to play. One of my favourite traditions is when a newly-married bride steps into her new home, and accompanying belief that she brings with her prosperity and happiness. The tradition of tipping over a pot of uncooked rice into the house with her foot and dipping her feet in alta and stepping into the house on a white cloth, which symbolises Lakshmi coming into the home is something not many do today, but is a tradition that I hope continues," she adds.
Need reasons to plan a destination wedding? Read on.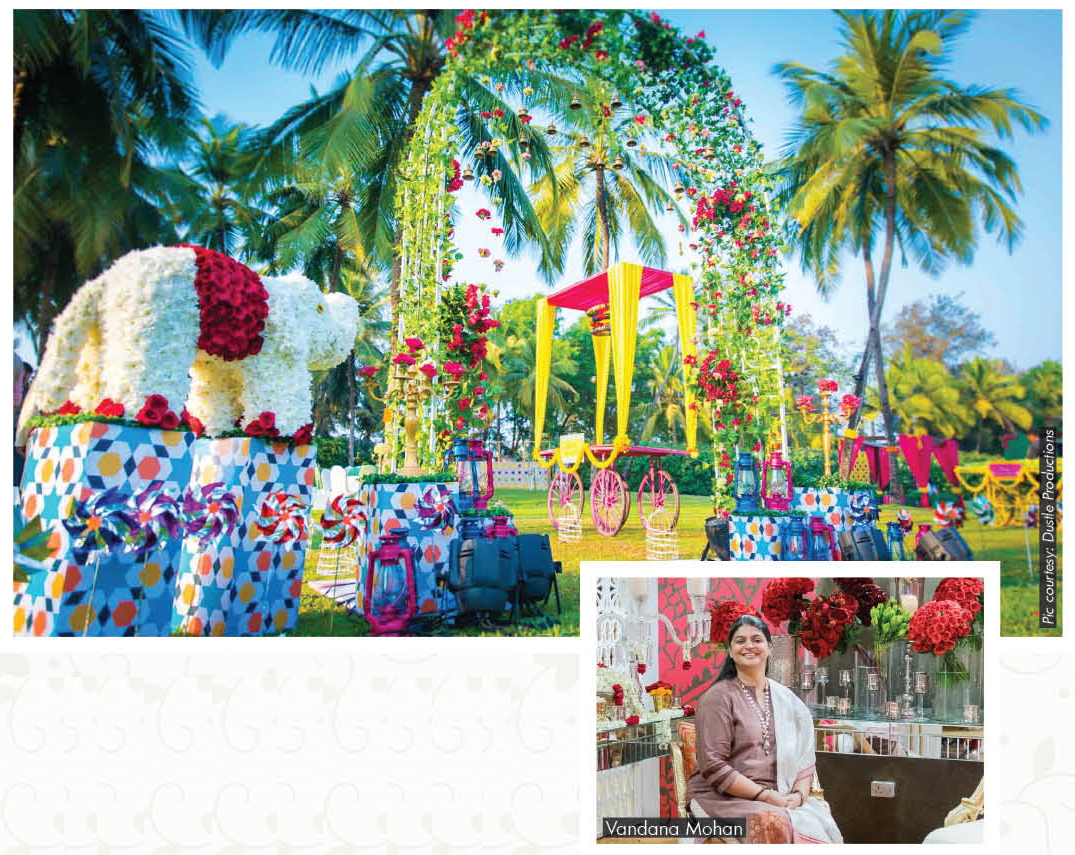 Picking a meaningful vacation spot:
Maybe you had an idyllic vacation earlier in your relationship at a gorgeous beach or a laid-back glamorous city hotel. If it's easy to picture yourselves in wedding finery in all those wonderful holiday memories, a destination wedding may be right for you.
If your family is all over the world:
Many couples with families around the world know what a hassle it can be to get everyone to travel across the globe. Soon it occurs to them: If everyone's going to have to travel anyway, they might as well make it special for all involved.
You're not into traditional hotel/reception hall weddings:
If you want something different from what most people have been doing, and want something out-of-the-box, then this is it!
Planning can actually be easier (yes, easier!):
Most big hotels that cater to destination weddings are used to this and have it down to a science, which can make your life so much easier.
Now that you have enough reasons to plan a destination wedding, let's get down to some serious tips.
Start early:
This can't be emphasised enough! If you want a place that you've always dreamt of, you need to book it as soon as possible. Get started with some research, so you know if it's even affordable. And of course, guests need ample time too, to plan to travel for your wedding. While six to eight weeks ahead is fine when it comes to a traditional wedding, you'll need to give five or six months' notice to guests invited to a wedding far away from home. No one wants to drop loads of money on a ticket that could be a lot cheaper with some advance notice.
Stick to your budget:
While it's true that it's easier to keep costs in check with destination weddings since things tend to be more all-inclusive, it can be easy to get carried away with all the other elements; decor and alcohol can all add up eventually. So it would be wise to be firm from the beginning.
Communication is key:
Send out save-the-date cards as soon as you know when and where you'll be wed. Wedding websites have been huge in the West and have only recently become popular in India. It's always a good idea to let your guests know what to pack, what the event's itinerary will be, and so on.
So what are you waiting for? Start dreaming and, more importantly, start planning. Because the result is going to be one big roller coaster of a fun journey in your most favourite spot in the world, with your nearest and dearest around you!
Aishwarya Rai and Abhishek Bachchan
Aishwarya Rai Bachchan and Abhishek Bachchan are Bollywood's most loved couple—both onscreen and offscreen. They got married in 2007 and their wedding was a total South Indian affair with Aishwarya looking absolutely gorgeous in her South Indian sarees and jewels. After a whirlwind proposal in Manhattan, their roka and wedding took place in Mumbai within three months from when it all began.
Sonam Vaswani and Navin Fabiani
Sonam Vaswani, daughter of Stallion Group's Sunil Vaswani's married Kamal Fabiani's son Navin, in a grand affair in Vienna, Austria. The #SoNavSoFab hashtag was quite the talk of the town. From a Viennese Ball to an elegant outdoor wedding ceremony, Sonam and Navin's wedding functions were full of unique, fairytale touches. The celebrations kicked-off over the weekend with a party at Vienna's Palais Ferstel, followed by a colourful mehendi ceremony at the city's Palais Liechtenstein Park. The killer Bruno Mars performance was the cherry on the #SoNavSoFab cake. Bringing in the couple's big moment in Vienna were guests including Sophie Choudry, Natasha Poonawalla, Neetu and Rishi Kapoor, Kanika Kapoor, Nandita Mahtani, Surily Goel, Suneet Varma, Reshma Taraporewalla, Sid Mallaya, and Surily Goel.
Bipasha Basu and Karan Singh Grover
The celebrations of one of the most awaited weddings of the year, of actors Bipasha Basu and Karan Singh Grover, tagged as 'The Monkey Wedding', commenced on April 29, 2016. With a total of four ceremonies—a puja, mehendi, the wedding, and a reception—the gorgeous couple hosted their close friends, family, and colleagues from the film industry.
Bipasha went all out with her looks during her wedding celebrations and looked absolutely stunning in each and every one of them. She donned a red and gold Sabyasachi Mukherjee lehenga saree for her Bengali-Punjabi-mix wedding that took place at St. Regis Mumbai. She accessorised this with a heavy matha patti by Kishandas Jewellery and a traditional mukut, and rounded it off with Bengali bridal makeup. Karan complemented Bipasha in a pearl white sherwani by Shyamli Arora.
Meera and Prashant Manek
London's Meera Shah and UAE's Prashant Manek got married in October this year and their celebrations were held on October 8 and 9 at Ibiza, the world's most glamorous beach destination! Quite predictably, the couple instantly fell in love with the magical and spiritual energy of Ibiza. The guests at this wedding had a fabulous vacation along with attending the wedding ceremonies.
Parth and Anushree Jindal
The youngest son of businessman Sanjjan Jindal and his wife Sangita, Parth Jindal married his high school sweetheart Anushree Jasani, the daughter of Uday and Nunu Jasani, on May 9, 2016, in Vienna, Austria. The wedding was the mother of all Big Fat Indian Weddings in the recent past. It was an event that much of Indian society had been anticipating for months. The pre-wedding festivities started on May 7 with a black-tie welcome dinner at the Hofburg Imperial Palace, a historical building that houses the official residence and offices of the President of Austria — an evening that ended with a performance by pop singer Enrique Iglesias.
Asin and Rahul Sharma
This is a true blue love story that makes hearts flutter.Bollywood actress Asin Thottumkal got married to Micromax CEO Rahul Sharma on January 19, 2016. Both the ceremonies were held at Dusit Devarana hotel in Delhi, and were attended only by close family members and friends.
Asin sported some really beautiful clothes on this day. She wore a Vera Wang ensemble for her Christian wedding ceremony and a golden lehenga by Sabyasachi Mukherjee for the Hindu wedding. Rahul too, looked dapper in a formal suit for the Christian ceremony, complete with a bow-tie, and a white sherwani for the grand Hindu ceremony, with a golden pagdi that made him match his lady-love.
Keshav and Veena Reddy
#KeshVee was amongst the most talked about weddings this year for all the right reasons—gorgeous designer ensembles, power-packed guest-list, and of course the gorgeous decor. The wedding spanned across five days and was planned by parents of the groom, Pinky and Sanjay Reddy, and designers Abu Jani and Sandeep Khosla. The celebrations started with a traditional ceremony with Vedic chanting, where everyone blessed the bride and groom. This was followed by a ultra-modern after-party.
The next night witnessed the sangeet ceremony, which was held at GMR Grounds, Hyderabad. The splendid evening was attended by Shah Rukh Khan, Anil Kapoor, Twinkle Khanna and Akshay Kumar, Shilpa Shetty Kundra, Natasha and Adar Poonawalla, Sridevi Kapoor with daughters Khushi and Jhanvi, the Bachchans, and designers Manish Malhotra and Gaurav Gupta amongst others. Ranveer Singh and Jacqueline Fernandez enthralled the audience at this bash.
An all-day carnival that was organised the following day was what stole the thunder—eight bars, five restaurants serving delectable delights, and 1,600 guests attending a shopping fiesta and carnival at the Reddy home, was what this was all about.