The Bizarre Treasures of the Maharajas

Known for their eccentricities, the royals of India lived such a decadent lifestyle that owning just opulent palaces and expensive jewels became boring. For many, spending their money became a pastime that resulted in some truly noteworthy purchases. Often buying curios and other objects of curiosity from European craftsmen, the Maharajas ended up collecting an array of possessions that would today be seen as 'bizarre'. You & I takes a look at a few of these brow-raising pieces.
The Gwalior Silver Service Train
Ordered by Maharaja Madho Rao Scindia in 1906 from Bassett Lowke in England, the toy train moves around a track on the Gwalior banquet dining table, serving guests brandy and cigars.
The 1910 Swan Brooke
One of the most absurd looking cars, the Swan was originally built for Scotsman Robert Nicholl Matthewson who sold it to the Maharaja of Nabha, due to the royal's particular affinity for swans.
Baroda Pearl Canopy
Composed of 950,000 Basra pearls, emeralds, rubies and diamonds, this particular carpet was commissioned by Maharaja Khande Rao Gaekwad in the late 1800s. It was sold in 2019 at an auction at Christie's for USD 2,235,000.
Kapurthala's Palace of Versailles
Built by Maharaja Jagjit Singh of Kapurthala, a known Francophile, this palace was built as a homage to the Palace of Versailles, some say to impress his Spanish wife, Anita Delgado.
Jehangir's Emerald Cup
Made out of three Colombian emerald pieces, this cup was one out of 30, owned once by Mughal Emperor Jehangir, who used it to drink wine. It weighs 408 carats in total.
The Erotic Bed of Bahawalpur
Made by silversmiths Christofle of France, out of silver and wood, for the Nawab of Bahawalpur, this particular oddity had four sculptures of nude women from Spain, France, Greece and Italy, who would become animated when the bed's mechanism was turned on, winking and fanning and making subtle movements, to appear lifelike.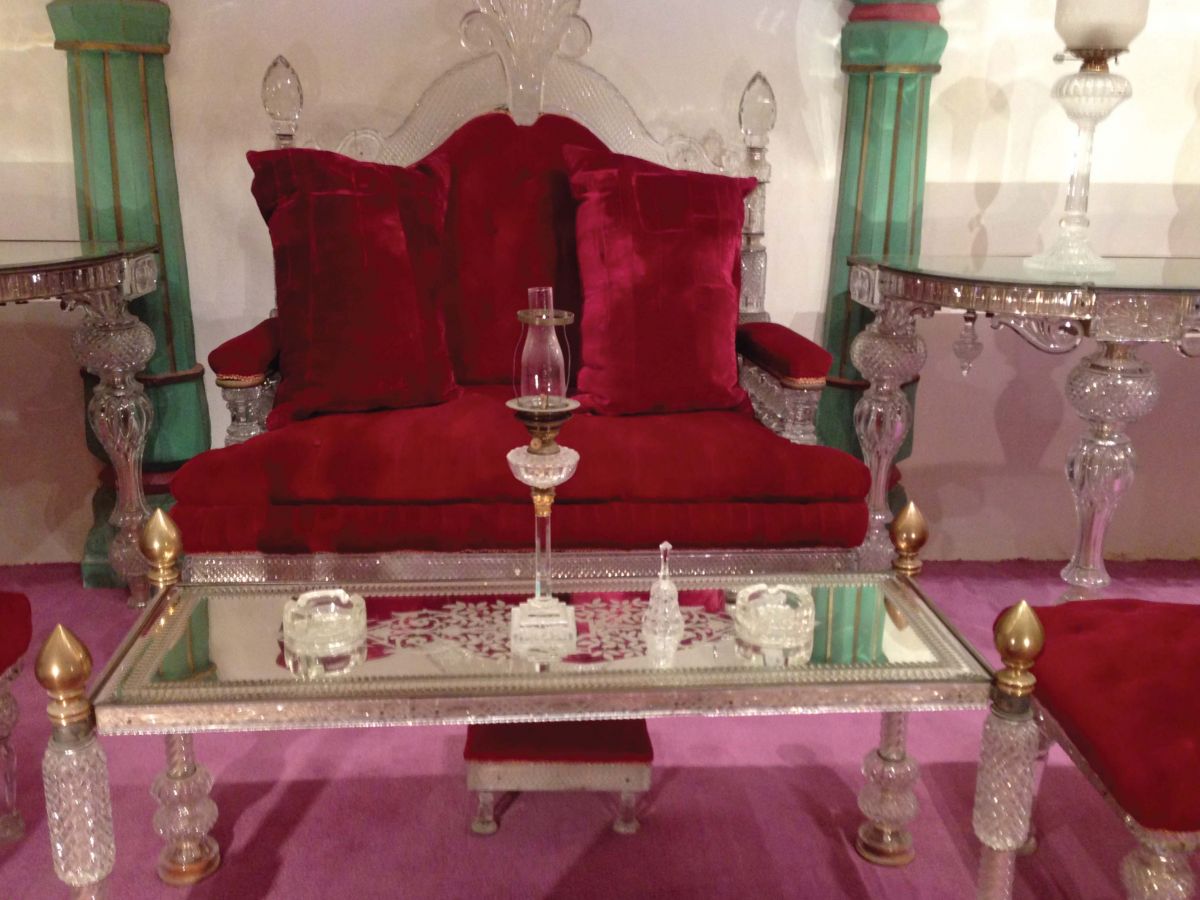 Mewar's Osler Crystal Collection
An entire suite of furniture was ordered by the Maharaja of Udaipur, made completely out of crystal. Though the Maharaja passed away before it was delivered, today the collection sits at the Udaipur Palace, where tourists can view it on display.