Beautiful skin makes a beautiful body. And it's not just the face that needs care and attention, but the entire body. So if you don't want to be just another pretty face out there, team it up with a beautiful body and you're likely to be the pride (or envy!) of everyone around you.
To get that beautiful body, you need to exercise regularly, but you also need to pay attention to your skin. Like the face, the body needs its share of pampering. Unless dead skin cells are regularly removed, you'll end up with skin that's dull and unhealthy! So for supple, smoother and younger looking skin, exfoliation is needed to help the skin breathe and stay moist, resulting in healthy and smoother skin.
The process of exfoliation can be done with body scrubs. Exfoliation removes the dead skin cells that cause the skin to become dry. Body scrubs not only help exfoliate, but they also fight cellulite, improve skin tone and are excellent for treating over-tanned skin.
Usually, scrubs are either cream or oil-based, which helps moisturise the skin. They contain lightly abrasive ingredients that are effective in removing dead skin cells. The best abrasive products are those that are natural, such as sea salt and sugar. Some body scrubs even have skin-nourishing ingredients and chemical exfoliants such as alpha-hydroxy acids (AHAs), which help dissolve the intra-cellular "glue" that holds cells together.
The three key ingredients that off-the-shelf body scrubs contain are:
Exfoliant: Exfoliants are made of abrasive materials such as salt, sugar, rice bran, jojoba beads, apricot kernels, coffee grounds and many others. They help rub away the dead surface skin cells to reveal a fresher and softer layer of cells underneath.
Oil: Oil is used to hold the mixture together, which makes it easier when applied to the skin. It is also effective in moisturising the skin and helps improve the tone and texture, giving it a revitalising glow. Some oils used in scrubs are macadamia, kukui nut and sweet almond oil.
Fragrance: Aromatic fragrances that come from the essential oils give scrubs a relaxing quality that acts on the body. They may also have synthetic fragrances, but this depends on the specific brands you're using.
Don't Overdo It
Exfoliation does not need to be done every day. For those with oily skin, it is recommended about once a week, while those with dry skin can exfoliate the body twice a month. Remember not to overdo it. The body's skin is just as sensitive as the face, and removing dead skin cells doesn't need to be a daily ritual.
Home-made Body Scrubs
Besides the body scrubs that are readily available in the market, you can make your own just by using some natural ingredients. Here are some effective body scrubs you can make right in your kitchen:
Oat Body Scrub
Add a cup of coarsely grounded oats to a half litre of buttermilk or beaten curd. Mix well and refrigerate for two hours. Leave on the body for about twenty minutes and rinse off with warm water with a few drops of lemon juice added to it.
Lentil Body Scrub
This scrub is good for tender skin. Soak half a cup of lentils for half an hour. Drain the water and grind coarsely. Add 1 tablespoon of chickpea powder and blend with milk into a smooth paste.
Chickpea Powder Scrub
This scrub is excellent for those who have oily skin. Mix four tablespoons of chickpea powder and add half a tablespoon of turmeric powder. Add a few drops of milk and rose water. Mix together to form a thick paste. Apply on the body, and once the paste begins to dry, scrub in circular motions to remove the dead skin.
Orange and Lemon Peel
Take dried orange and lime or lemon skins, and grind them into a powder. Add two tablespoons of dried peel powder, two tablespoons of wheat bran, half a tablespoon of honey and some milk to make a coarse paste. Apply to the body in circular motions before your bath.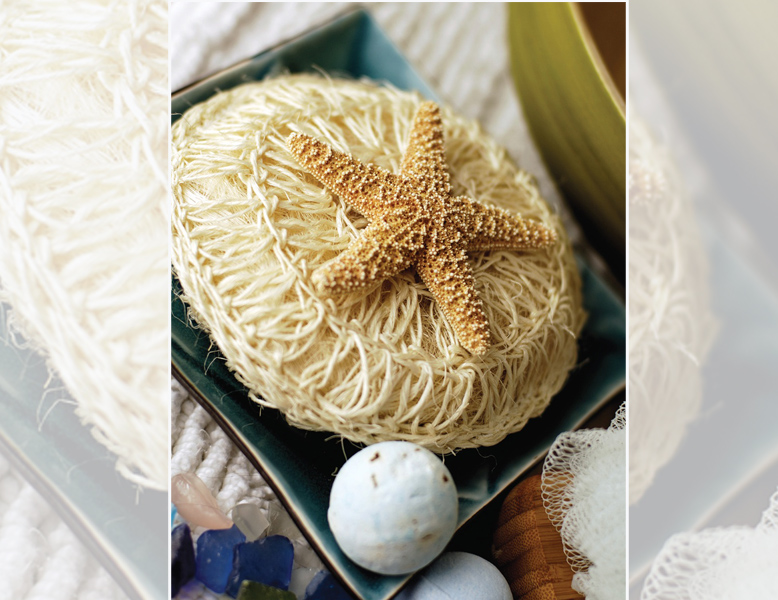 Salt Scrub
Take one cup of fine sea salt and add half a cup of oil and sweet almond, grape seed or light textured massage oil. Then include 5-15 drops of high quality essential oils, depending on the result you want. Lavender aids in relaxation, lemongrass is refreshing and rosemary is stimulating.
But remember, body scrubs are made specifically for the body, which has an entirely different skin texture than the face. The skin on the face is thinner and requires a much more delicate touch, while body scrubs are designed to treat the body's tough skin. So never make the mistake of applying a body scrub on the face.
Body scrubs… buy one that's right for your skin, or try making one at home and scrub your way to healthy, glowing skin!

- Hewasa