All Of Me, Loves All Of You!

With February upon us, all one can think of is Valentine's Day. With everyone trying to make it an extraordinary day for their special someone, we help you out with a few great ideas to make it unforgettable. Ditch the usual chocolates and flowers, because now is the time to deepen your relationship with some meaningful activities where you can really spend some fantastic time with each other. So get ready: Here are some extremely out-of-the-box, lively, exhilarating, and intimate activities to try out this Valentine's Day!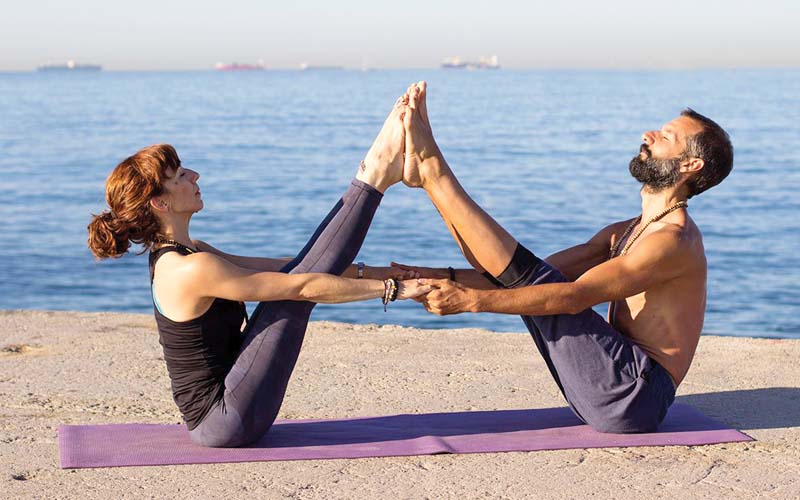 Couples' Yoga: Stretch it out together
Yoga improves mindfulness, allowing you to make deeper and more natural emotional bonds with those around you. It's been practiced all over the world for the longest time, and is undoubtedly great for your mind, body, and soul. Indulge in some refreshing, calming, and toning with partner/couple yoga, forming yoga poses, testing each other's limits, and encouraging each other to never give up. The duo that practices yoga together stays together! It helps the two relate to one another through assisted poses, increases relationship satisfaction, improves intimacy, communication, and trust and, lastly, helps reduce anxiety and stress. So grab those yoga mats if you haven't already, and escape from stress for a day with your significant other!
Tandem Bike Ride: A promise to journey together!
Whichever way your relationship is heading, a tandem will get you there quicker! Riding a tandem bicycle is no joke, though it may look like one. A tandem cycle is a two-person bicycle which can be quite tricky until you get the hang of it. It involves a captain, the person sitting in the front, hence responsible for the brakes and steering, and a stoker, the one at the back who relies on the captain. The captain's priority is to earn the trust of the stoker for a smooth and fuss-free ride. Riding a tandem is about teamwork, excitement and fun. A tandem ride is a great way to test the psychological compatibility between couples. It's basically like a reality check of your relationship. As this activity involves a lot of teamwork, the couple requires supporting and understanding each other, verbally and non-verbally. It also acts as a great ice-breaker if you are struggling with communication issues.
Wine Tasting: Red, White, or Rosé?
We're sure that everyone has seen (either on screen or in real life) how people jump into huge wooden vats to crush wine grapes with their feet. Although jumping into an unusually large wooden vessel to crush fruits with your feet along with your companion might sound thrilling, you could also opt to attend a wine-tasting event first! Opening a good bottle of wine together as a couple at dinner can be a great way to unwind and enjoy each other's company. Attending wine tasting together will not only reveal the personal preferences of each other's tastes, but it will also provide insight into your partner's hidden, inner personality. And at the same time, you'll gain some knowledge about wine, and observe it with your five senses, varying from its texture to aromas and flavours. This month of love and romance, add a taste of wine, and dine in love!
Tango: Dance it off
Tango is a highly visual ballroom dance form where the dancers put their best foot forward and express their love for each other. This dance form is known for its quick, graceful, and lively steps that require a lot of room and allow adaptations and improvisations at the drop of the hat. It's an energetic and elegant dance, which bridges the gap between the couple and brings them closer – both physically and mentally. Research has found that taking a few tango classes together can be very advantageous, as it effectively transforms the mental health and adds a touch of social contact. And dancing is among the most satisfying and spiritual exercises. As any type of dance is done from the heart, tango allows the couple to feel a deeper emotional connection with each other.
A Spontaneous Road Trip: Reaching new heights together
It's important that in every relationship, you're trying new and adventurous activities to keep the spark going. It's crucial for the bond to get deeper, which can be achieved with meaningful fun and lively movements. So this Valentine's Day, get a hold of your special someone and unlock some new and exciting levels in your relationship by getting a little sporty and adventurous. A spontaneous road trip could change your idea of your partner completely, and how! It is said that you get to know a person best when you actually start living with them. Well, if that seems too much for now, why not pack some bags and throw yourself in a car for the weekend! Travelling is revealing, and a road trip could be the best turn for you relationship! It reveals each other's limitations, adjusting and understanding their habits and yours. Not only does the romance quotient go up a notch, you may even end up becoming best friends and live in the moment! - Ishika