Air Chief Marshal Idris Hasan Latif A Patriot All the Way

He was kind, quick-witted, and a thorough disciplinarian, but above all, he was a dedicated patriot who devoted 40 years of his life to service in the Indian Air Force. Air Chief Marshal Idris Hasan Latif, who breathed his last on April 30, 2018, was an individual who was widely known, not just as a former Chief of the Indian Air Force or as Governor of Maharashtra, or even as Ambassador of India in France. More than any of these official roles, he was regarded as a man who ensured precision and perfection in all his actions, and was a man of true values.
A loyal husband, an inspiring father, and a doting grandfather, Idris instilled these same qualities in his family, and his children; Mariam, Asad and Asgar are testament to this. His wife of almost 66 years, Bilkees I. Latif, was a social activist, Founder President of the Society for Human and Environmental Development (S.H.E.D.) which works closely with some of the largest slums in India, and a Padma Shri awardee. She was also a distinguished author who, amongst other books, penned the biography of her husband – The Ladder of His Life – in 2013.
Including excerpts from his biography and some personal tales from his close ones, this article serves as a tribute to this extraordinary gentleman and some of his more notable accomplishments.
His Early Life
Born on June 9, 1923, into a notable Suleimani Bohra family, Idris H. Latif spent his first few years in Warangal, where his father, Hasan Latif, the then Chief Engineer of Hyderabad state, was stationed, along with his wife Leila. He then moved to Hyderabad where he lived through his school and college years, along with six siblings and his parents.
"What memorable years they were! What closeness, what harmony! To begin with, the understanding of their individual roles between my parents was, truly, so heart-warming. Another exemplary aspect: never, ever was there a harsh word or serious disagreement between them – at least never, ever within the hearing of any of the children. The togetherness of the family, the consistent spirit of mutual accommodation, the wonderful understanding amongst parents and brothers and sisters, was a source of both strength and unadulterated happiness," Idris recalled in The Ladder of His Life. Having studied in St. George's Grammar School in his early years and later at Madarasa-e-Aliya, Idris followed that up by attending college in Nizam College – all three fine institutions. He was always a great student, and almost consistently stood first or second in class. But apart from academics, he credits his school and college for allowing him to participate in a fair share of sports and other recreational activities, including badminton, tennis, kite flying, and even horse riding.
His ambition, owing to his love of wildlife and forests, was to join the Hyderabad Forest Service. However, at the age of 17, when he was still in college, he came across "attractive posters" encouraging people to join the Air Force. This was during the time when World War II had just begun in Europe. Almost instantly, he raised the subject of joining the Air Force with his parents. Although a bit apprehensive initially, his parents supported him in his endeavour, and Idris was soon selected for the Indian Air Force. He underwent training in flying at the Madras Flying Club and then Begumpet after which he was commissioned. --- Niharika
The Aviator and Air Officer


By K.S. Nair
It is both a huge privilege, and something of a challenge, to write about Air Chief Marshal Idris Latif's time in the Indian Air Force. That part of his story made up nearly 40 years of his life, from his late teens to his late fifties, and there is plenty of material to choose from and pull together. Celebrating each posting and promotion, as he ascended what Begum Bilkees Latif so affectionately described as The Ladder of His Life, would be quite a compilation. And the ranks and acronyms would be a little mystifying to readers outside the Air Force. So instead we'll look at some of the significant rungs he climbed along the way, recounting details that say so much about the man – especially his time as a young pilot in the wartime IAF.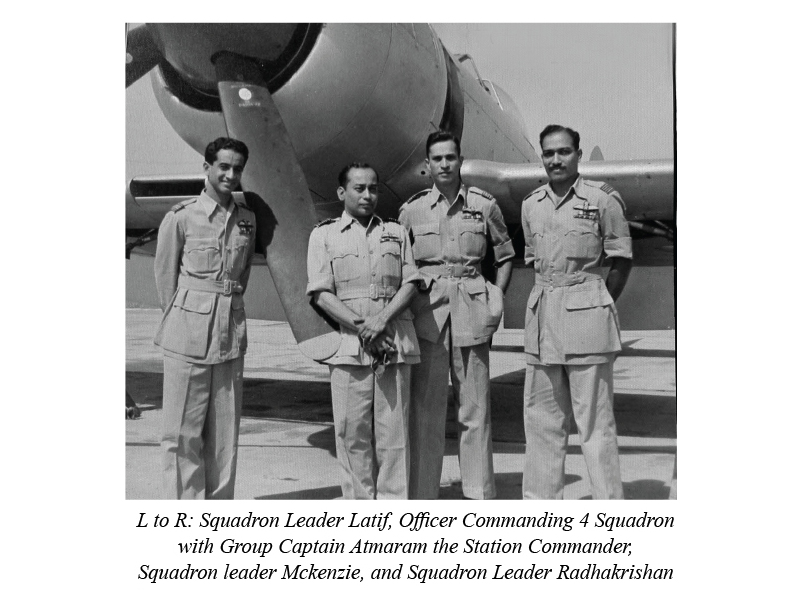 Idris Hasan Latif applied to the Indian Air Force in 1940, as soon as he turned 17½. Though it had not yet spread to Asia, the Second World War was already on, and 17½ was the earliest age at which it was permissible to apply, in wartime. There was no draft or compulsory military service in India, as there was in many other allied jurisdictions during the war. The young Idris, like all the nearly three million Indians who served during that war, was a volunteer. Coming as he did from a comfortable family background, and having recently begun college, there was no requirement for him to serve. Yet, he volunteered.
Some years ago, I listened to him talk about his selection interview. Revealingly, he said that when he was asked why he had volunteered, he responded on the lines of, "Sooner or later we all have to decide". His words suggest that even at that age, at that time, he saw service in wartime as almost an obligation, even for the relatively privileged.
Volunteers for the Air Force in those days were subjected to initial assessment at a flying club. Young Idris underwent that assessment at the Madras Flying Club, one of the country's most active. In September 1941, he was selected and pronounced fit for service flying, by an RAF officer, Flight Lieutenant William Pitt-Brown.
He was soon back at Begumpet, a stone's throw from where he had started college. Begumpet at the time housed No. 1 Elementary Flying Training School or EFTS, the first rung on the long Air Force ladder that Idris had stepped on.
At EFTS, young Idris learned the basics of flying on de Havill and Tiger Moths. He was commissioned in the rank of pilot officer on 26 January 1942. Pilot Officer Idris Latif then went to No. 1 Service Flying Training School at Ambala, where he flew the Hawker Hart, and its Audax variant. Technically, these were combat aircraft – two-seat light bombers with one forward-firing machine gun and one rear gun on a swivel. But they were still biplanes, and already obsolescent. By September that year, Pilot Officer Latif had completed the course at Ambala, and was posted to a Coast Defence Flight (CDF). This was his first operational posting, where he flew Westland Wapitis, an aircraft similar to the Hart and Audax he had trained on, but even older.
Towards the end of the year the CDFs were amalgamated into new IAF squadrons, which were just forming. Pilot Officer Latif moved to 3 Squadron IAF, where he often flew in demanding formations led by Flight Lieutenant Prithipal Singh, one of the handful of outstanding IAF officers who had trained before the war at the prestigious RAF College at Cranwell. By this time, Pilot Officer Latif had flown three or four different aircraft types in the IAF. All were biplanes, with fabric skin stretched over a wooden frame. Sadly, these were quite representative of the flimsy, obsolete equipment the infant IAF was being asked to train and go to war with.
But better things were in store. In June 1943, Officer Latif was dispatched to the UK, one of a batch of 25 Indian pilots sent for training on modern Hurricanes and Spitfires, and operational experience with an RAF squadron.
What an honour it was to serve in the Indian Airforce headed by the man who was the embodiment of strength, fair play and compassion. - Ramaswamy Ramesh
He started flying in the UK on the Miles Master, his first monoplane. It was still a trainer, but faster and more manoeuvrable than anything he had flown earlier, and the perfect introduction to what he would fly next. By New Year's Day 1944, he was flying the iconic Hawker Hurricane, at 59 Operational Training Unit at Milfield in Northumberland. There he was drilled in air-to-air firing and ground attack; initially solo, and then in flight-and squadron-strength formations. (The Hurricane had eight machine guns, a far cry from the two that his old Audax and Wapiti mounted.)
One of my memorable postings where as a newly married officer in 1966 I got the reception in their official bungalow. What a kind-hearted family, like a father figure giving advices on all fronts!
- Haraprasad Pal
In February, along with a handful of other Indians, Fg. Off. Latif was flying the even more iconic Supermarine Spitfire, at 61 OTU at Rednal, the same unit where the famous Free French ace Pierre Clostermann (later a celebrated author, and a member of the French parliament) had trained. His experiences there included a forced landing, from which he was recovered, uninjured, by an ambulance driven by a young woman of the Women's Auxiliary Air Force. As part of standard procedure, she took his pulse, and told him it was a little high. He said something charming to her about his quick pulse being a consequence of his wrist being held by an attractive lady, and was back to flying the next day.
Fg. Off. Latif and his batch of Indian pilots were on the point of being deployed to support the D-Day landings in Normandy. But the IAF pressed for their urgent return to participate in planned offensives on the Burma front.
Back in India, Fg. Off. Latif was posted back to 3 Squadron, now flying Hurricanes. His commanding officer was Prithipal Singh, now a squadron leader. The squadron was just embarking on a tour of combat duty in Burma. This was very different from combat flying over Europe. There were much wider spaces, and virtually no radar coverage; hence air-to-air encounters were rare. Most combat was ground attack or close support to troops – unglamorous, but essential and equally dangerous. In a sobering reminder of the risks of their job, the much-respected Squadron Leader Prithipal Singh was killed in a practice dogfight, just as they were about to deploy to Burma.
The squadron shook off the shock, and went to war. Fg. Off. Latif's log book shows him undertaking bombings of bridges, strafing of hilltop enemy posts and riverside jetties, and close support of troops. His flight commander, Flight Lieutenant Minoo Engineer, one of four distinguished brothers in the IAF, was decorated with the DFC (the third-highest British gallantry award) during their tour of duty. Interestingly,
Fg. Off. Latif landed a few times, during this tour, at Cox's Bazaar, which would be a key target of the IAF and the Indian Navy during the 1971 war, some 26 years later.
At the end of their tour, Fg. Off. Latif and his squadron returned to India. He was then posted to 9 Squadron which, to his delight, was flying Spitfires. In March 1946 his squadron was one of two IAF Spitfire squadrons to participate in a massive Victory Parade and Flypast down Kingsway (now Rajpath) in Delhi. In June 1946 he was a member of the Indian contingent participating in a major Victory Parade in London. Photographs show a youthful Fg. Off. Latif being presented to the British royal family of the time.
One of the most humble and humanitarian CAS who used to think about rank and files.
- Narayan Das
Independence followed, and by 1950 Squadron Leader Idris Latif was Commanding Officer of 4 Squadron, flying the Hawker Tempest, one of the last and most powerful piston-engine (propeller-driven) fighters. The Tempest had a somewhat nefarious reputation by then; its engine was prone to burst into flames without warning. It was not an easy time, but the IAF made do with what it had.
In 1951 Sqn. Ldr. Latif married Bilkees, the daughter of Nawab Ali Yavar Jung. At the time, Nawab Ali Yavar Jung was Vice Chancellor of Osmania University, and soon after became Indian Ambassador to Argentina. The Latifs' marriage would last 66 years.
From this point onwards, the Latifs' IAF story (I use the plural deliberately, because it is difficult to tell the story of either of the Latifs without referring to the other) continued to evolve. There were progressively more responsible commands, staff and instructor roles; more senior ranks; and greater concern for personnel welfare. As in any service career there were challenges, increasingly heavy responsibilities, and occasional crises. But the Latifs dealt with them all, with unfailing grace and dignity.
To touch on just some of his roles, in 1955 Wing Commander Latif was deputed as an advisor to the Air Force of Indonesia. In 1959, Group Captain Latif assumed command of Air Force Station Begumpet, where he had learned to fly. In 1961 he took up the role of Air Attaché at India's Embassy in the US, and held it through promotion to Air Commodore. While in Washington he encountered the RAF Deputy Air Attaché, Air Commodore William Pitt-Brown, the same officer who had assessed and selected him for the IAF 20 years earlier.
In 1965, during the war with Pakistan, Air Commodore Latif was the Air Defence Commander for the Eastern Theatre. Soon after, he assumed command of the large IAF base at Lohegaon. In 1970 he was, in the rank of Air Vice-Marshal, appointed to the new post of Assistant Chief of Air Staff (Plans), where he had a key role in preparing the IAF for war. During the 1971 war he had an unsung role as Air Chief Marshal PC Lal's personal emissary in several aspects of the IAF's operations, and was decorated with the Param Vishist Seva Medal (PVSM).
Air Chief Marshal IH Latif's love for flying is legendary, having flown the MIG-25 on the day before his retirement, that had just been assembled from a Semi-Knocked Down kit. The Indian Air Force remains eternally indebted to Late Air Chief Marshal IH Latif for his sterling contributions, which will continue to inspire future generations of air warriors of the IAF.
- Air Chief Marshal BS Dhanoa – Chief of Air Staff
In the mid-1970s, Air Marshal Latif served as Commander-in-Chief of Maintenance Command, and then of Central Air Command. On September 1, 1978 he assumed the rank of Air Chief Marshal, and the office of Chief of the Air Staff. In each of these roles, Begum Bilkees Latif was at his side, discharging significant welfare responsibilities and supporting him through the responsibilities of office.
Several new aircraft and systems were inducted into the IAF during Air Chief Marshal Latif's time as Chief, some representing significant changes in the IAF's doctrine. But many would say that those were not his most important contributions in the role. At the time, the Air Force was recovering from some internal organisational challenges, and Air Chief Marshal Latif's transparent consideration of the human aspects of his role was an important restorative. Following a three-year tenure, Air Chief Marshal Latif retired as Air Chief, on 31 August 1981.
For me personally, he remains a role model for many reasons. For the courage with which he embraced the young man's responsibility during a global war; and for the way he addressed difficult situations in nominally peaceful times. For his gentleness, and the never-failing characteristic best described by the Sanskrit word vinamrata, in interacting with people. And above all, despite his many claims to distinction by descent and by accomplishment, for his complete and genuine lack of pretentiousness with everyone he met. He has left me with a permanent distaste for self-importance.
One the finest and perhaps the most popular CASs even after his retirement........purely because of his simplicity and humane nature. Those were the days of royals in the IAF. His name shall be etched forever in the memories of Air warriors for generations to come!!! - AJ Misquita
A great flyer and commander who has commanded great respect from all ranks during his service for his welfare activities, concern for airmen and their families, modernising the Air Force and being a nice human.He was everything that an idealistic commander should be. Proud to have served in IAF during his tenure as Chief of Air Force. - Ravinder Reddy Kommidi
A very sad day, the God father figure of all ranks of IAF, who changed the outlook of IAF is no more with us, but will ever remain in our heart. - Ashok Kumar Mishra
The day the Air Chief Marshal passed away, I was asked to contribute an obituary to another magazine. As is the nature of obituaries, it was pieced together quickly, without any opportunity to collect inputs from others. In the weeks since then, there has been a flood of recollections of the Air Chief Marshal, on various Air Force mailing lists, veterans' forums, and other channels. Interestingly, among these remembrances, there are almost no mentions of the Air Chief Marshal's undoubtedly important roles in war, or in inducting new and strategically game-changing aircraft, or other official contributions. Nearly every recollection is a personal anecdote, of an occasion when the Air Chief Marshal established a simple human connection, with people from every walk of life and every rank and level in the Air Force and beyond. That remains the measure by which he is remembered in the Air Force community.
Many admirers of the Latifs say, with complete sincerity, "They don't make them like that anymore", or "They were the last representatives of a time when people behaved that way". As a parting thought, let me ask: Why should they be the last? For those of us who have admired the Latifs, one of the sincerest tributes we can offer on their behalf is to try, wherever we are, to conduct ourselves as they would have. And the world will be better for it.
Our Air Force Family
By Asad Latif
The family in our Air Force and, in most if not all other Air Forces, is not just the husband, the wife and the children. It's much, much more: it is truly a life closely bonded with trust, with constant caring, and deep affection. It is a life of shared values, of shared happiness and joy. But sometimes, sadly, even in times of peace, it has its moments of tragedy and loss of one's dearest: Will he safely return from the daily sorties that are his life? Deep down there is always that fear. But even this is common to all and shared; and, in its own way, it becomes yet another bond.
In the Air Force, though they're occasionally stationed in or in the vicinity of large cities, more often, Air Warriors (as they are now known) and their families must adjust to living in relatively remote parts of our vast country. Frequently, these are areas with limited school facilities and entertainment. But again, with the full involvement of family members - organising picnics, staging plays, promoting games, sports and other entertainment - there is a tremendous boost to a common sense of sharing. With this comes the experience and enjoyment of a wonderful sense of belonging to the larger Air Force family. Even a family, newly posted in, very soon feels at home and secure. Compared to what they give to our country, salaries and perquisites may not be much, but the values earned and learned, for themselves, and for their children are incomparable.
Of course, this life isn't without its challenges. Danger to life is there in war and peace. With the family there is, inevitably, a fear that one day without warning, someone will come knocking at the door, to break the news that a loved one is no more. Being far from other relatives, it could become unbearable. But at Air Force stations, always and every time, a specially selected close friend is given the sad duty of breaking such news. And with it, very soon, the whole Air Force family at the station is near you to hold your hand and to help in every way.
Constant transfers – whether single or married, with children or without – are an unavoidable part of life in the Air Force. Packing, unpacking; losing close friends but making new ones; for children, new schools with new teachers, are only some of the challenges that must be faced. But it all has its brightside, and it is, truly priceless. It helps one develop an extraordinary and most valuable capacity to continuously adapt and adjust. In the long run, it is for all, including children, a truly invaluable lesson. Growing up in an Air Force family is unique, and I wouldn't have changed that wonderful life for any other. As children, the pride we felt --- and still feel --- to see the Air Force's transparent respect and affection for my father, not only when in Service but even after thirty years of retirement, is something we treasure. Unforgettable also is how he taught us the importance of character and true values, the fun and the special richness of shared happiness. Also cherished is the love, care, and sacrifices of my mother. Equally memorable is her confidence, and the warmth of her smile, even in adversity. Growing up in the Air Force is not just another life. It is, believe me, a privilege, both rich and treasured.
As related to K.S. Nair by Air Chief Marshal Latif in February 2010 (with picture of Minoo Engineer) "When I went to Kohat, no. 3 squadron, Sqn Ldr Nanda was the Commanding officer. And my great good fortune what a wonderful flight commander I had in Minoo Engineer. Wonderful – truly wonderful. When I think of those times, the environment in which we worked was really such that a senior officer was an elder brother. The whole atmosphere, you know, was like one family. And yet, I think, we ensured – we learned – that having a close relationship doesn't mean that you take liberties. You must recognise that there is a difference. And that is the kind of relationship that throughout my life I have felt was a kind of environment that should exist, particularly in the Air Force. And yet, - we felt close enough to play pranks on them – which we often did. But we would know they would take it in the right spirit. But also that, when you had a problem, they would stand by you."
Governor of Maharashtra & Ambassador to France
By Mariam Sandhu & Niharika
Governor of Maharashtra
Idris retired as Air Chief in 1981 and was then appointed as the Governor of Maharashtra by the then Prime Minister, Indira Gandhi, whom he greatly respected. Interestingly, Bilkees' father, Nawab Ali Yavar Jung, had also been the Governor of Maharashtra. Soon after assuming his new role, Idris was made to scrutinise and review an acquisition against the Chief Minister of the time, A.R. Antulay, against whom there were 13 chargesheets. After three hard months of studying numerous files and documents, and hearing out several ministers, he made the tough but correct decision against the CM.
One aspect that Idris found satisfying was his involvement with Bombay University through his role of Chancellor. The inability of the University to declare examination results in time year after year was having a serious effect on the students at a critical stage of their lives. Taking his responsibility seriously, in his usual style, Idris took steps to set matters right.
The rest of his time as Governor of Maharashtra afforded him the opportunity to tour and familiarise himself with the problems of the rural areas where, as Mahatma Gandhi had rightly said, "the heart of India beats." Visits to small villages were included in his monthly schedule, and his wife often accompanied him on these outings. "Sitting and chatting with our simple, hardworking, kind, generous – and often very mature and knowledgeable – people in our villages was not just a novel experience, but always a most heart-warming and memorable event; and often, for me, an education in more ways than one," he had explained in a written note.
It was during this time that Bilkees Latif got involved in social work relating to Mumbai's slums. The couple then became active in cleaning up the environment of these slums, and addressing issues around communalism.
Devendra Fadnavis – Chief Minister Maharashtra
"One of the most outstanding and decorated officers in the flying branch of the Indian Air Force, Air Chief Marshal Latif had an equally brilliant career as Governor of Maharashtra. During the three years that he was Governor of the State, Air Chief Marshal Latif touched the lives of millions of people with his vast and varied social work.
During his frequent visits to rural parts of Maharashtra accompanied by his gracious wife Begum Bilkees Latif, herself a great social worker, he invariably interacted with people, farmers and villagers and understood their problems. Even after his retirement, Air Chief Marshal Latif maintained his bonds with the people of Maharashtra, and continued to serve the poor and the downtrodden people through non-governmental organisations.The Government of Maharashtra places on record its deepest appreciation of the outstanding work done by Air Chief Marshal I H Latif and late Begum Bilkees Latif for the State and for the people of Maharashtra."
Ambassador to France
After serving out his tenure as Governor of Maharashtra, Idris Latif's next stint was as the Indian Ambassador to France, between 1985 and 1988. The year long Festival of India that was inaugurated barely a month after Idris' arrival in 1985, was a huge success and generated enormous interest and local involvement throughout France. As noted in India Today, "buoyed by the spectacular success of the Mela, both (French and Indian) delegations seemed to be in an upbeat mood when they met to discuss the serious affairs of the state." Prime Minister Rajiv Gandhi complimented Idris: "Even though you had taken charge of your assignment barely a month before my visit, you had supervised the 'bandobast' with your customary thoroughness… You had already established your contacts in the French Government at various levels. If my visit was a success, the credit for it must go in large part to you and your embassy." (The Ladder of his Life).
Mrs. Sonia Gandhi
"During his long and full life, and his distinguished and many faceted career, Air Chief Marshal Latif represented the highest standards of professional excellence, public service and personal integrity. His courage, patriotism and leadership qualities, as well as his personal warmth and concern for every single person in the Air Force helped bring out the best in all those who served with him."
This post, as was the case with his other posts, was highly educating and no less emotionally rewarding. However, it demanded high social terms from Idris and his wife, which they fulfilled with grace and dignity throughout their three years in Paris. In her book, Bilkees stated, "We entertained a great deal and it got really hectic at times. I remember when we had whole weeks of continuous functions at our Embassy residence." Guests included President Mitterand and his wife, who were warm and gracious with Idris and Bilkees and dined with them at their residence during Rajiv and Sonia Gandhi's visit. Yet another social event that Idris, as a keen 'shikari', never missed was the Annual Pheasant Shoot to which all Ambassadors were invited as guests of the President.
The couple treasured France's unmatched beauty, as well as its warm and helpful people and travelled widely to visit the numerous regions of the country. They flew back from France on April 17, 1988, and lived in Hyderabad thereafter, moving into their own house, Riyaaz, for the first time.
While Idris was serving in France he was asked, in very great confidence, by the Prime Minister, Rajiv Gandhi if he would agree to be the Vice President of India. Idris said that he was deeply, very deeply, touched and highly honoured to be considered for such an office, but he sincerely felt temperamentally unsuited for the position, particularly as his insistence on a very high standard of discipline, which has become so much a part of him, may well, politically prove to be, in the Rajya Sabha, a cause of serious embarrassment for the Government.
Manmohan Singh, M.P. Rajya Sabha, Former Prime Minister of India
"In his death our country has lost a great Soldier who defended our country in many difficult moments. He was a role model whose life and work will inspire many generations to come."
Later, towards the end of their stay in France, the Latif's received news stating that Idris was being mentioned as the next President. There were several newspaper reports referring to the pros and cons about having a former military man as the President. The very fact that Idris' name was being seriously discussed, was a great honour to him and the entire family.
The family never enquired further and forgot all about it. However, some time after they returned to India at the end of Idris' tenure as Ambassador Plenipotentiary to France, they were told that Idris had actually been very seriously considered, but there were other very active aspirants trying for the honour.
Family And Retirement
Having returned to Hyderabad after several years, the Latifs became deeply involved in the city's social life and working for good causes. During their years there, Idris took keen interest in current affairs and defence, particularly anything concerning the Air Force. The Latifs continued to visit Delhi for the Annual Air Force day celebrations to which they were always invited. Idris was asked to be on the Governing Board of several institutions, but chose to be involved with only very few; amongst these was the Bharatiya Vidya Bhawan, the premier NGO in the country in the field of education.The Latif's are largely remembered for their humanitarian efforts and for the contributions made towards improving the lives of the less fortunate. - Mariam Sandhu
A True Hero in Every Sense
By Rahim Latif
T o me, my grandfather was 'Dada' and that's what I called him, whenever we were together - whether it be at a picnic, eating breakfast, playing a game, making a bookmark together, target practice or a lecture. I loved listening to him speak about his times in Paris, Mumbai, Washington, Pune, Delhi, Hyderabad and the many other places that he went to. Also talking about horse riding, as I loved it too. I always loved planes but as much for the luxury as for the flying experience, but mainly because of the sound of an aircraft almost 'roaring', like my grandfather did. I loved chatting and learning about all his pranks and jokes with his Air Force friends.
I remember target practice with him. He used to tell me that if I wanted to break through to the red dot I had to combine patience and force to get exactly that. I took that as a lesson to use for life! I felt that he meant 'that the goal for something comes through those two factors, so over using one may affect the other and at the end of the day, losing what the goal really is. I learned a lot about self-management and efficiency, I knew that punctuality with him was vital. I guess my time with him prepared me for what was indirectly expected of myself for I wanted to be a success. I guess seeing this helped me glimpse a side of his professional life that I never otherwise really got to see. For me my grandfather remained my grandfather.
One of the best surprises was one of my grandfather's indirect last feats- substantially surpassing Trump on the Facebook trending list just after he passed away. When I found out that Dada was in the top ten trending, and ahead of Trump - I was honestly like 'Wow! I didn't realise my Dada was so famous, that too on a world trending list'. I later realised that just an hour or two after his death, the press was all over us and that over a 100 articles about my grandfather flew out all over the internet within five hours. I never realised that someone I held so dearly, was held similarly by millions of others.
I thought of my grandmother (I called her Papu) and thought of Dada, and realised the extent of all that they did, what they gave to others and the love and almost worship that they nurtured in others.
The world has once again from my Dada's to my time, experienced a 360-degree cycle. But my take away from a message he sends is, 'if someone is pure, genuine, and has their intentions aligned, creating goals, with a smile on everyone's face – that is how life should move on. It's how someone see's a glass and how you place yourself in it'. I knew my grandfather and my perspective on life could never be identical, but goals and intensions could!
In my Dada's words, "The world today is perhaps a little more complex than mine was when I was my grandson's age… Demands on the individual today are perhaps greater, and our society appears more concerned with "me" and less with "us". Yet, as can be testified by the experiences of my life, I still see the glass half full and not half empty, and I have no doubt that the basic culture, the fine traditions and the selfless outlook of our great people, both tolerant and intelligent, will prove more than equal to the challenges that lie ahead for all of us".