The Age of Letting Your Hair Down, Literally!

For truly stylish people, it doesn't matter whether they follow a trend or not. For true style derives from true personality. Hence, a style that's in sync with your personal identity will always work, whether it's popular at the moment or not. But then, something catches on and people suddenly can't have enough of it, and nobody knows why.Hair has always been an important asset to women, even before the boom of the beauty and makeup industry. Women have used it to express themselves, to flaunt their beauty, and to make a point to society. Today, the biggest trend is to pick a style that looks best on you, and more importantly, represents what you want for yourself. With that in mind, we've spotted some prominent hair trends which are most likely to stick with us and, perhaps, become even bigger in the New Year!
Beautiful women all over the world are posting pictures of their well-styled looks on vibrant platforms like Instagram and Tumblr, documenting how they have been practising self-care. Here's what we observed: long hair is in, but so is the bob cut. What was once considered the least glamorous style is now perceived differently. Creativity is the buzzword when it comes to hair. And there's no reason to have a hairdo that can be described as anything less than extravagant.
The Middle Partition
For some time now, the middle partition has been accused of being a bore. The general perception might have also been that only those with a "serious temperament" preferred the plain and simple middle partition. Or it was widely accepted only for advertising hair products that promised lustrous and silky hair, or even on the covers of yoga magazines. Even when the movie Kal Ho Na Ho was released in 2004, everyone loved the middle partition that Preity Zinta consistently wore throughout the film. The look didn't catch on immediately as a trend though; perhaps it was hard to separate it from Naina's serious and sad character.
Until recently, the look was left for gorgeous Bollywood ladies portraying iconic roles in period cinema. In the film Jodha Akbar, however, Aishwarya Rai who played Jodha wore her hair in a long braid, parted in the middle. She was adorned with a maang tika and the style typically depicted a traditional beautiful Indian woman. Although in the movie, she was no damsel in distress, and the style didn't cause a ripple because it was hard to associate it with something that wasn't necessarily regal, royal, and ethnic. But then time went on and things changed. The new cool was no longer rebellion, neither has it turned out to be absolute conformism. Now it's cool to be balanced, emotionally intelligent, and socially organised, and so is the way to wear your hair.
The middle partition has become the identity of women who are empowering themselves by taking extra good care of themselves. Qualities of strength and maturity are being identified as the new cool, and more women have figured out how to strike a balance between work life and home life. The look is now associated with control and great confidence. It's the no-fear look! It's easy to recall Sonam Kapoor donning the equally parted hairstyle at social events and photoshoots alike, right from the early stages of her career.
The style of the mid-partition is here to stay. There are many creative ways in which you can wear your hair with a middle partition. You can wear it in a low bun, forehead knots, a low ponytail, a messy ponytail, a messy bun, a braid, a side braid, or you can simply leave it open with the option of tucking your tresses behind the ears. This look can be carried off with wavy hair as well as with straight hair, for all hair lengths. Whether you're dressing up for work or a wedding, you'll find several options to choose from once you start exploring. Of late, newlywed style icons Deepika Padukone, Anushka Sharma, and Priyanka Chopra have frequently been spotted looking elegant and classy with a middle-partition. And according to our fashion meter, the look is most likely to stay in for the next few seasons!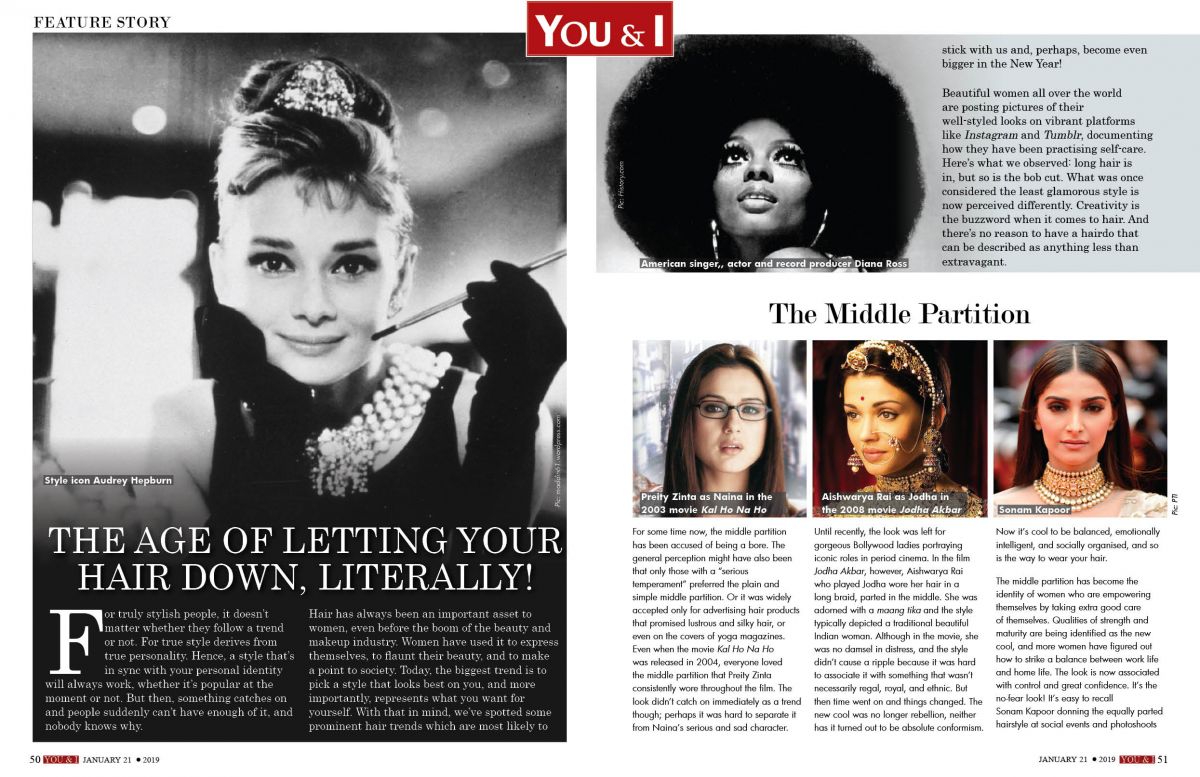 The Naturally Glamourous
As it goes with the graph of humanity, it seems we're in that phase again when we're trying to stay connected with our roots. This pursuit has given birth to the demand and supply of organically grown foods and eco-friendly clothes and other utility objects. The range of products keeps getting wider, and now includes natural skin and hair care products. And with the advent of DIY videos on YouTube and elsewhere, information is freely exchanged between the creators and the seekers. This way, those who want to grow their hair long as naturally as possible, are able to do so with worldwide support. Celebrities too are taking pride in flaunting their beautiful tresses. Hollywood actor Emmy Rossum recently posted pictures of herself with absolutely no makeup and newly washed bouncy, vivacious curls, working themselves perfectly for her.
The ancient practice of massaging your scalp with a rich combination of oils is catching on in Western countries and India, too. Hair care videos usually have something unique to offer, and whatever the problem with your hair and scalp, you can look forward to finding a quick remedy. This culture has also been beneficial for men who no longer have to worry about being labelled as anything less than macho just because of their desire to groom their hair.
The standards for what makes for attractive hair have evolved from when they used to be about instant and artificial fixes, especially those involving heavy chemicals. The new definition of good hair includes hygiene and longevity. The new hairstyle mantra is no matter who you are, there is no good reason for you to put your hair through the unnatural and harmful processes including permanent hair treatments and instant hair styling.
Getting Creative
Ornate hairstyles made a comeback a few years ago. They became a rage among brides for wedding-related occasions such as sangeet and mehendi. There are no rules, this time, except to get creative. The choice between minimal drapings of two bunned-up curls and intricately woven braids is open. It doesn't end with the hair; ornamentation is the next step. Nicely crafted hair bands, hair pins, hair bouquets, and even tiaras are quite popular now. Ornate styles are being embraced with the regal image they provide. It seems to fit just right in. Whether you feel like going for a look of Princess Jasmine in Aladdin, or like that of Cleopatra herself, you can get as creative as you want. The famous hairdo of actress Natalie Portman from the movie Star Wars is becoming more common now. Another approach to creatively done hair is very boldly shaving it off. Women have been spotted with one side of the scalp shaved, leaving the other part to rest over the head. Streaks is another viable option. The choice of colour can be more vivacious, bold, and individualistic than ever. From pinks to greens to yellows to greys, or even a double to triple shaded set of streaks are all trending now, for women and men of all ages. Hair is being recognised as an accessory. The idea is to make it look so fabulous that a good wash is all you need to look your best.
Even braids and ponytails are no longer simple and straightforward, and these styles are gaining more personality. We love the ones that use hair to create the illusion of headgear. Creative braids are popular among girls of all ages as they can be done on a daily basis. Just learn a few basic methods from YouTube and use them as appropriate to the situation. Buns are no longer round and big, rather there are knots involved. Half buns are more glamorous than ever, and whimsical at the same time! And have you tried knotting it up like a bow? Check out a tutorial if that sounds interesting to you. The attitude of the day is to opt for any kind of hairstyle from any era and own it for yourself.
The most popular inspirations are that of the bohemian culture and the Victorian era. People are definitely becoming braver when it comes to playing with their hair, and it seems to be becoming a definitive choice. Scarves are in, too.
The Bob Cut
The bob cut is certainly here to stay. The style emerged way back in the 1920s when the flapper generation cropped their hair as a symbol of their rejection of traditional roles for women in society. It came with a grand flip in the way women dressed themselves. They chose shorter skirts, excessive makeup, sparkly shoes and pointed heels, and lived a life of jazz music and long parties. Many ladies in Hollywood and literary circles adopted the look with a graceful oomph. Movie stars and celebrities like Irene Castle, Mary Thurman, Colleen Moore, Clara Bow, Joan Crawford, and Zelda Fitzgerald changed the way the style was being perceived, and made it popular. Lady Diana Cooper and French actress and singer Polaire took to the style way before the 1920s, as a natural choice in the progression of their personal lives.
During the First World War, the bob cut became a practical choice for the women who provided their service in the war zone. The trend fizzled out until its comeback in the 1960s, when rock culture was shaping up. Later, American poet, songwriter, and punk rock artist Patti Smith wore her hair short, sometimes up to the neck line, in layers, with bangs and fringes. But when women all over the world started working in the early 80s, they bobbed their hair to suit their hectic lifestyles. They kept their hair bobbed and undemanding to focus on the affairs of the nation. Indian Prime Minister Indira Gandhi was rarely ever seen in long hair. Now it seems her granddaughter Priyanka prefers a similar style and look, as well. The look of the character of Nancy in the second season of Stranger Things is worth a mention, too.
In the TV Show The Vampire Diaries, the character of Bonnie Bennet, played by Kat Graham, bobs her hair when she comes back from the other side and joins college. There are other versions of the bob cut on new shows such as The Chilling Adventures of Sabrina, in which the protagonist has a blonde and wavy bob. The new hit show, The Marvelous Mrs. Maisel and the classic Gilmore Girls, both written by Amy Sherman Palladino, portray strong women with bob haircuts, too.
There are several ways to wear your hair bob and crisply short. You can curl them all up, straighten them out completely, leave the front edges pointed and long, or even make it your own like Julia Roberts in Homecoming. Whether you have a peppy personality or you're a workaholic, there's a way for you to play with your hip, bob cut hair!
Buns Are In
Buns are gaining the reputation of being glamorous; they're like the Apple computer of the beauty world. They are sleek, sophisticated, minimal, and they serve a well-defined purpose. First of all, buns are a wonderful way to get your hair out of your way. Now, no girl on this earth wants to appear boring, which hair buns have notoriously had the habit of being judged as. However, things have changed. Buns have been embraced by girls and women of all ages. In fact, it's adorable to see tiny tots zooming off with their friends, not in pigtails, but perhaps with a pair of braids rolled up into buns on both sides. The very high bun which extends beyond the centre of your head, is popular with college goers, designers, and travellers, much inspired by the bohemian look.
One-sided buns and low lying buns are reserved for work situations and formal social gatherings. Accessories which make wearing a bun on a daily basis convenient have also emerged. Now no assistance is needed in creating and sporting an elegant and stylish bun.