Adam Lambert's Hollywood Hills Pad is Simply Stunning!

Delivering the perfect amalgamation of contemporary sound and theatrics, Adam's innate style in music has propelled him from being an American Idol superstar singer and songwriter to a celebrated international celebrity. The gorgeous home he bought in the year 2009 (the same year he appeared in American Idol) that overlooks the stunning Sunset Strip reflects his personality, along with his penchant for drama. Adam Lambert, a Grammy-nominated vocalist (for the song 'Whataya want from me'), is currently travelling the world almost full-time – performing in tours, making major guest appearances, writing and recording songs, and cutting albums. With all of this happening, it's no surprise that he has no time to kick back into his Hollywood Hills pad. Hence, Adam recently put his West Hollywood Hills home out on the market for a whopping $3.35 million!
Adam Lambert made it big when he first appeared on American Idol in the year 2009. His career began in the year 2001 as a cruise ship entertainer. From there, he performed in a musical theater in California and on a European tour of Hair. With his appearances on American Idol, he gained a lot of international recognition and toured for Queen + Adam Lambert. The group recently announced the expansion of The Rhapsody Tour, which will include seven stadium dates in Australia and three in New Zealand.
It's a well-known fact that the famous Hollywood Hills has been a celebrity magnet for as long as the industry has existed. Apart from Adam Lambert, many other celebrities such as Halle Berry, Keanu Reeves, Leonardo DiCaprio, etc. have chosen this prime location for their homes!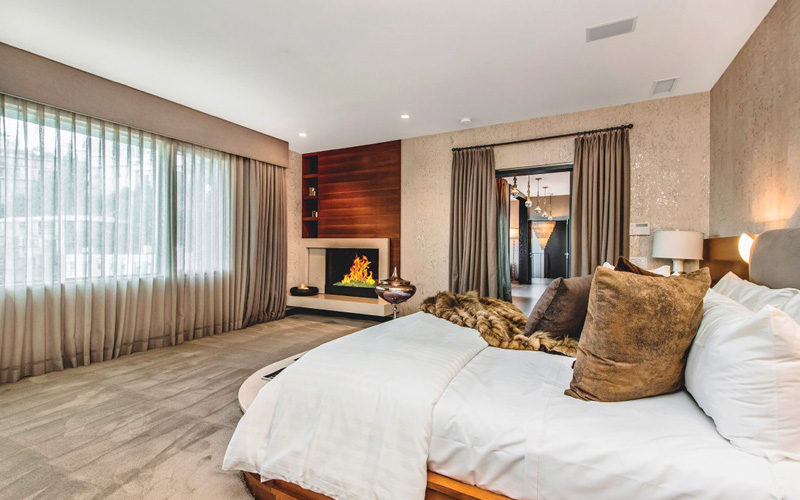 Built in the year 1947, this mesmerising Hollywood Hills pad enjoys the view of the beautiful Los Angeles city light. Measuring 3,700 square foot with three bedrooms and four bathrooms, this house is very private and is surrounded by lush greenery. It has a disappearing glass wall, which opens to a large terrace that includes an outdoor living room, a fire pit, a spa, and a contemporary free-form pool. The master suite has two balconies, a sitting room, a massive dressing room, and a marble bath with steam shower and a soaking tub. The magical night lighting brings added drama to the pool deck and instantly creates a party atmosphere. In addition to the formal and family rooms, this luxury pad also houses a special chef's kitchen with Viking appliances and a large island. It also has a custom wine storage with a separate studio and a private entrance.
– Zainab with inputs from toptenrealestatedeals.com