Combine a love of photography and a thirst for adventure, and you've got the perfect recipe for an amazing African affair. Read on to learn all about Nirbhay Kuppu's time in Africa.
The call of the wild is unmistakable; it gradually pulls you to where you need to be. Africa called out to me in a voice so loud I had to obey. For photographers like me, Africa is a dream, and many elements came together to make my adventure materialise. The strongest of these was probably my time at Hyderabad Public School – I grew up accustomed to the luxury of space, so it was only natural that I set my sights on the ultimate wilderness, the cradle of life. Add a college flatmate residing in Nairobi, Kenya to the mix, and it was the easiest choice in the world.


I'm used to travelling alone, so I booked my tickets. One week later, and I was off; I didn't even get a visa! With a little faith, I improvised my way through harassment at immigration to get into Kenya in one piece. Though my journey lasted two and a half months, I'll share the most vivid memories of my explorations.
I spent the majority of my time in Nairobi, at my close friend Pavan's house. Every chance we got, we'd head out on trips to nearby national parks. Nairobi is a beautiful city – 100 years ago it was a thick forest, and it still shows. Dense foliage lines the roads, and parts of the city like Peponi and Kuna have beautiful ravines with brooks snaking their way through. The people are funny and terribly polite, and their lifestyle is a world apart from that in India. Security, however, is a major issue – muggings, bandits and armed robbery are simply part of life. The locals live in heavily fortified houses to avoid these situations, and though you probably won't encounter much trouble on holiday, it's always better to be prepared.


My first romp in the wild was a camping trip to Hell's Gate National Park, known for being the inspiration for the landscapes in The Lion King. We reached Hell's Gate after dark, and I got my first sight of zebras – a whole herd was near our campsite! I could hear the clatter of hooves as the night sky burned brightly with more stars than I'd ever seen! After a brilliant night by the fire, we set out on a 20-kilometre trek down Hell's Gate Gorge, one of the most beautiful sites I have ever seen. The flow of water has chiselled the sides of the cliff face away, making rock art so beautiful it'll take your breath away. We camped next to a fire through the night, and I ended up sleeping in the backseat of our car.
After a short breather in Nairobi, we set out on an expedition down Sagana Rapids, a few hours outside the capital. The river flows through an arid landscape, the only green for miles being along the banks, making it a serpentine oasis. After a few hours on the rapids, we ended our trip with a 20-foot jump off Sagana Falls.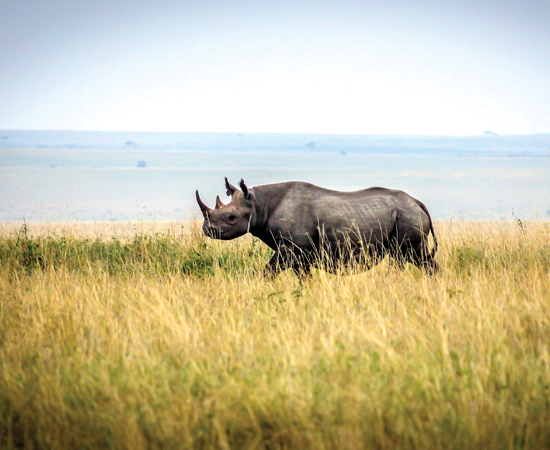 The most amazing part of my trip, though, was scaling Mount Kenya, which encompassed myriad landscapes from thick, elephant-populated rainforests to serene, bamboo woods. This was followed by flatlands just before the foothills, and the moonlike craters of the summit. Though quite arduous, the climb was totally worth it – I got to watch sunrise from above the clouds after a trek that nearly killed me a few times. The summit attack from 4,100 metres was freezing cold and at -10°C, my fingers felt like they were going to fall off any minute; all our water was gathered from streams and pools of melted ice along the way. The peak I climbed is the third highest – the other two require technical expertise. Being on Mt. Kenya was the closest I've ever felt to nature – the sense of unity and belonging is something I miss even now.
After the languid peace of Mt. Kenya, it was time for my last trip, and the one I had been waiting for – the Masai Mara! The wildebeest migration – the journey made by two million of them every year, from the Serengeti in Tanzania to the Mara in Kenya, and back – was coming to a close when we arrived. Words fail to adequately describe the magnificence of the African plains and the animals, and the sheer magnitude of it all. I was lucky enough to see lions, cheetahs, rhinos, crocodiles, hippos and a host of other herbivores. As a photographer, the experience was a dream. I stayed in an absolutely beautiful luxury tent for three days, feasting on gourmet food; sunsets on the plains are like dates with the divine.
On the way back to Nairobi, there was a moment as we left the plains where I saw the Great Rift Valley of Kenya in the distance; a scar on the perfectly flat earth that surrounded me. Kenya is a gorgeous country, and I highly recommend a visit. If you love the smell of trees and the feeling you get when you walk through the woods, Africa should be on your list. What I miss most is the sheer magnitude of everything, the sprawling landscapes and the magnificent skies. – Nirbhay