The Oscars: A Trip Down The Academy Awards Memory Lane

The Oscars are here! The most prestigious awards ceremony of the entire year, the Oscars represents the most elite and the best-of-the-best. It's the biggest celebration of the Hollywood film industry, bringing Hollywood leading names on one platform for a glamorous, star-studded evening. These awards help create some of the most memorable moments in the industry and although meticulously organised, things don't always go exactly according to plan. Here, we take a walk down memory lane and recall some of the most unforgettable Oscar moments.
HALLE BERRY MAKES HISTORY WITH OSCAR WIN
Actress Halle Berry was at the peak of her career in 2002, and the cherry on top was her powerhouse performance in "Monster's Ball", which won her an Oscar for Best Actor in a Leading Role. She made history as the first (and still only) black woman to win an Oscar in that particular category. "This moment is so much bigger than me," she stated, dedicating the honour to "every nameless, faceless woman of colour that now has a chance because this door tonight has been opened." It wasn't a win just for her, but for the black community as a whole.
ELLEN DEGENERES TAKES THE MOST STAR-STUDDED SELFIE EVER
2011 was the year that brought us the record-breaking selfie, taken by talk-show host, Ellen DeGeneres, while she hosted the Oscars. The A-list group shot featured Brad Pitt, Kevin Spacey, Meryl Streep, Jennifer Lawrence, Julia Roberts, Channing Tatum, Bradley Cooper, Lupita Nyong'o, Peter Nyong'o, a blurry Angelina Jolie and half of Jared Leto. Needless to say, it broke the internet, claiming the spot as the most re-tweeted post of all time, thereby etching it in our memories. "If only Bradley's arm was longer," DeGeneres captioned the snap. "Best photo ever. #oscars."
JENNIFER LAWRENCE TRIPS OVER HER DRESS
Jennifer Lawrence has established her position as the clumsiest and most relatable star, and in part she has her infamous Oscar's fall to thank for it. The 22-year old won Best Actress for "Silver Linings Playbook" in 2013 and right before she accepted her award, she tripped on her own gown while climbing the stairs to the stage, taking a fall on international television. For most people, the fall would have caused immense embarrassment, but the lovable star lightened the mood by openly acknowledging the incident in her speech that followed. She jokingly said, "You guys are just standing up because you feel bad that I fell." The quirky actress induced a few chuckles and dealt with the little accident like a pro, prompting viewers to like her even more.
LEONARDO DICAPRIO FINALLY WINS BEST ACTOR

Being a Leonardo DiCaprio fan has been painful at points, having to watch the much-loved celebrity get nominated for Oscar after Oscar, but disappointingly, never winning. But after a long wait, Leo fans rejoiced as his time to shine finally arrived in 2016, when the six-time Oscar-nominated actor won Best Actor, for his work in "The Revenant". A dedicated environmental activist, DiCaprio used his stage time to address the threat of climate change in his speech, stating "Climate change is real. We need to work collectively, together and stop procrastinating...for our children's children...Let us not take this planet for granted. I do not take this night for granted." Who knew all it would take was getting mauled by a bear and ingesting a bison liver?
HEATH LEDGER WINS A POSTHUMOUS BEST SUPPORTING ACTOR OSCAR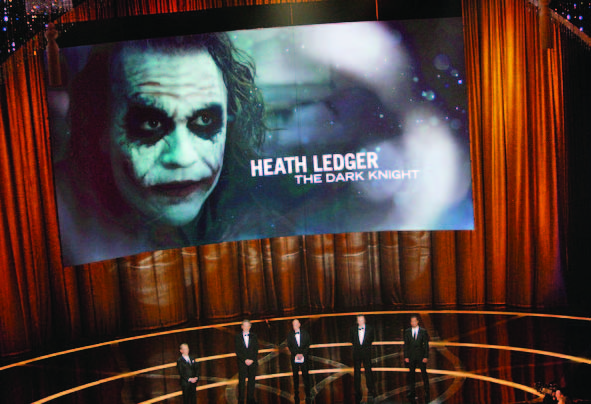 The premature passing of late actor Heath Ledger at the tender age of 28 left the entire industry in shock over losing an incredible talent way too soon. More than a year after the star's tragic demise, the Academy named him Best Supporting Actor for his iconic performance as the Joker in the 2009 Batman movie, "The Dark Knight". It was a bittersweet moment that commemorated the legend. The award was accepted by his family on his behalf, including sister Kate, who remembered her brother in the speech, saying "We really wish you were here, but we proudly accept this award on behalf of your beautiful Matilda," referring to Ledger's daughter with wife, Michelle Williams. Kim Ledger, the actor's father, added, "This award tonight would have humbly validated Heath's quiet determination to be truly accepted by you all here, his peers, within an industry he so loved. Thank you."
CHER WINS FOR MOST UNFORGETTABLE OSCAR OUTFIT EVER
The bold and beautiful Cher has always known how to make a statement. Her jaw-dropping outfit left quite the impression in 1986, when she showed up at the 58th Academy Awards wearing a risqué black beaded bikini two-piece, complete with a rooster feather headdress. The outfit was created by Bob Mackie and broke every fashion rule in the book. When asked about her ensemble, she famously stated, "As you can see, I did receive my Academy booklet on how to dress like a serious actress." And in case you weren't aware, the feathers on her striking head-piece were gathered by hand from a rooster farm in France. Leave it to Cher to throw shade in the most daring and unapologetic way possible.
LA LA LAND WINS BEST MOVIE... ALMOST
Arguably the biggest blunder in the history of the Academy Awards, the movie "La La Land" was announced as the winner for the Best Film Award in the 2017 Oscars. And while the film's cast and crew got on stage to give their victory speeches and shed a tear or two, the moment was quickly taken away from them. The Oscar's staff immediately took to the stage instead to declare that presenter Warren Beatty read out the wrong film name. It turned out that another nominee, "Moonlight", was the real Best Picture winner, making it the most awkward situation the reputable Academy had ever been involved in. Beatty said he had been given the wrong envelope to open, explaining, "I opened the envelope and it said Emma Stone, La La Land." He also made sure to add that he had not done it "to try to be funny". But La La Land producer, Jordan Horowitz, was the voice of reason amidst all the confusion, announcing "You guys, I'm sorry, no. There's a mistake," Horowitz said. "'Moonlight,' you guys won Best Picture." He then handed the award gracefully over to the Moonlight crew, winning him praise all over social media for graciously handling the situation. He then made light of the mistake, joking, "Hey, I won the Oscar for Best Picture. I got to thank my wife and kids. And then I got to present the Oscar for Best Picture! Not many people can say that."

- Rubaina Bilgrami
Pic courtsey: Pinterest
Youtube
Zimbio