Sachin Dakoji needs no introduction. A stalwart of Hyderabad's fashion and styling industry, he started his hairstyling career over 20 years ago at the Taj Krishna, and then went on to start Cutting Edge. Today, he is the creative head and owner of Manea Salons.
Sachin is a member of the Paris-based Haute Coiffure Française and the Dream Team India by L'Oreal. He is actively involved in propagating education in hair and beauty at the Manea School.
After winning national and regional awards – the L'Oreal Professionals Colour Trophy and the New Generation Award – in 2011, he went on to do a show called 'India in Paris', representing the country for the very first time on that platform. Along with Dream Team India and L'Oreal Professionals, it was a milestone in both his career and the Indian hairdressing scene.
He's worked with the likes of Nagarjuna, Anushka Shetty, Tamannaah, Taapsee Pannu, Navdeep and Rana Daggubati. This week, You & I got some hairstyling tips from the expert himself. Read the dos and the don'ts for hair in this weather.
For Women:
In this sticky weather, hair is best put up – tie it up, make a bun, or just chop it short. It's easier to maintain and looks good, too. For those of you who think buns or braids are passé, try the messy look. It can be easily braided into a not-so-perfect plait that needs zero maintenance, and it also allows some of your hair's texture to show through.
The same goes for a bun. It's simple and quick, and a slightly messy look never goes wrong. If you like to enhance with colour, try braiding it in panels. This accentuates the hairstyle instantly.
Braver ladies can opt for shorter cuts. Don't forget to have a discussion with your stylist about low maintenance, and ask for suitable advice on the right product. I highly recommend Kerastyle Creme Oleo Curl and Elixir Ultime to bring out the natural texture and shine of your hair.
For Men:
I highly recommend the buzz cut – it has clean, cropped sides, with maybe a slightly disconnected top. For corporate employees, you could gel the longer length back at work and let it down for a party. Also recommended is a lot of natural styling, which allows the hair to move.
A small bit of advice for sporty and working men – wash your hair daily with a good shampoo that's suitable for everyday use. You could try L'Oreal Homme (men in French) Energic or Cool Clear, which work best for a sweaty season like this. It has a cooling effect and energises the scalp, too.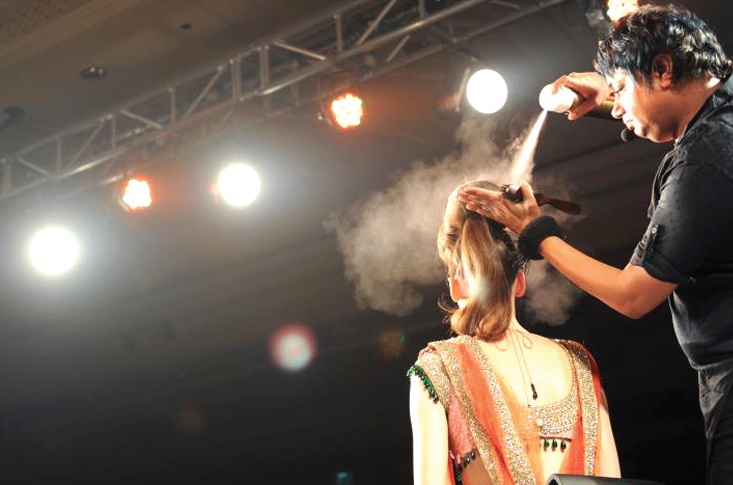 His favourite products:
Kerastase Soleil range for shampoo, masque and serums for this humidity.
Kerastase Elixir Ultime serum – the mother of all serums, so versatile that it multi tasks
Kerastase Fibre Architecte serum for damaged brittle and weak hair
Kerastase Creme Oleo Curl
L'oreal Professionel full volume mousse for scrunching
L'oreal Professionel aqua gloss gel
L'oreal Homme mat wax
L'oreal homme sculpte fibre wax
– Anahita