Exercise Like A Bollywood Star

Over the years Indians have become increasingly fitness-conscious, obtaining information online or by travelling around the world and observing how people from different cultures keep themselves strong and fit. Although the idea of being healthy is to improve quality of life, good health often goes hand-in-hand with looking good, a by-product that everyone would welcome!
Apart from healthy eating, good sleep and a happy mind, one of the most important aspects of healthy living is physical activity. There are endless options for those interested in exercise, but the hard part usually is getting yourself to make the commitment and, most importantly, sticking to it! Going for a walk or run in the park is still the cheapest and easiest form of exercise, followed closely by visiting the gym or practicing yoga in the comfort of your home.
There is another form of exercise that is becoming increasingly popular in India, mainly thanks to Bollywood celebrities like Alia Bhatt, Deepika Padukone, and Jacqueline Fernandez -Pilates. It's a form of fitness developed by a German man, Joseph Pilates, and is very popular in the West. Joseph believed that Pilates is a mind and body exercise, and that practicing it helps improve both. Pilates' main focus is on the core, and is intended to increase flexibility, endurance and strength, rather than to build bulk. This is the main reason why it is a good form of exercise to supplement one's gym routine, and is regularly used by film stars and athletes. It helps give you a long, lean and physically strong look.
There are nine principles of Pilates, they are: concentration, centering, control, flow, postural alignment, precision, relaxation, and stamina. Pilates can be done on a mat or using special equipment such as the reformer, the cadillac, and megaformer.
Reformer- The reformer is probably the most popular Pilates equipment. It can look quite intimidating or confusing to the novice. However, it is easy to use and with the right guidance and technique, it can dramatically transform your body by focusing on the small inner muscles that no other form of exercise can target. The reformer is extremely versatile and can be used to perform a wide variety of exercises in different positions –sitting, standing, lying down or even upside down! It is said that using the reformer regularly can help improve posture and alleviate back pain, too.
Cadillac- When you hear, the word Cadillac, the first image that comes to mind is a fancy car with dark windows! This cadillac is equally impressive. Like the reformer, the cadillac can look overbearing and intimidating, since it resembles a torture chamber but it gives the user a great stretch and can work on muscles by isolating them. It is said that Joseph Pilates invented the cadillac to enable bedridden patients to exercise.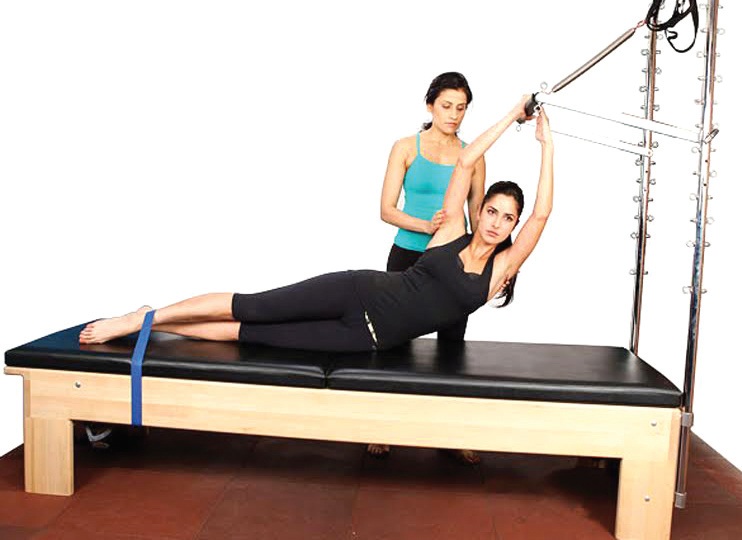 Megaformer- The megaformer is probably the most evolved Pilates equipment available, and is the explanation for some of the hottest bodies in Hollywood, including Kim Kardashian, Sofia Vergara, and Alessandra Ambrosio. Even the former US First Lady Michelle Obama is said to use this machine to keep herself fit. Designed by Sebastian Lagree, the megaformer was developed with the idea of approaching Pilates in a more intense manner.
The results one gets with Pilates can be miraculous, especially when supplemented with regular workouts at the gym and a healthy diet. So what are you waiting for? Go ahead and try this exceptional workout for a fitter and healthier life!

- Suneela
Pic courtesy: Yasmin Karachiwala