Amitabh Bachchan Turns Singer And Composer

Bollywood superstar Amitabh Bachchan has composed and sung a song for his upcoming comedy film "102 Not Out", directed by Umesh Shukla and produced by Treetop Entertainment, Benchmark Pictures, Sony Pictures and Entertainment India.
Amitabh Bachchan will be seen playing the role of a 102 year old father to 75-year old Rishi Kapoor. The film is based on a Gujarati play written by Saumya Joshi. Amitabh Bachchan also composed a song for the movie and sung it. The actor took to Twitter and shared a picture from the shoot rehearsal of the track, with a caption "T 2622 - Sung a song and composed it for '102 not out' rehearsals on with the great Ganesh. shoots on in a few. its BAADDUUUMBAAAA !! TRUST ME .."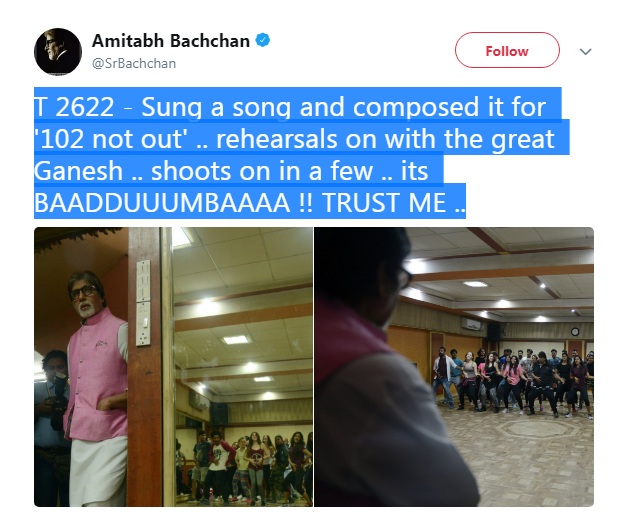 The film is slated to release on May 4th 2018.

-Akhila Kakarala
Pic courtesy: www.flickr.com
Amitabh Bachchan Twitter